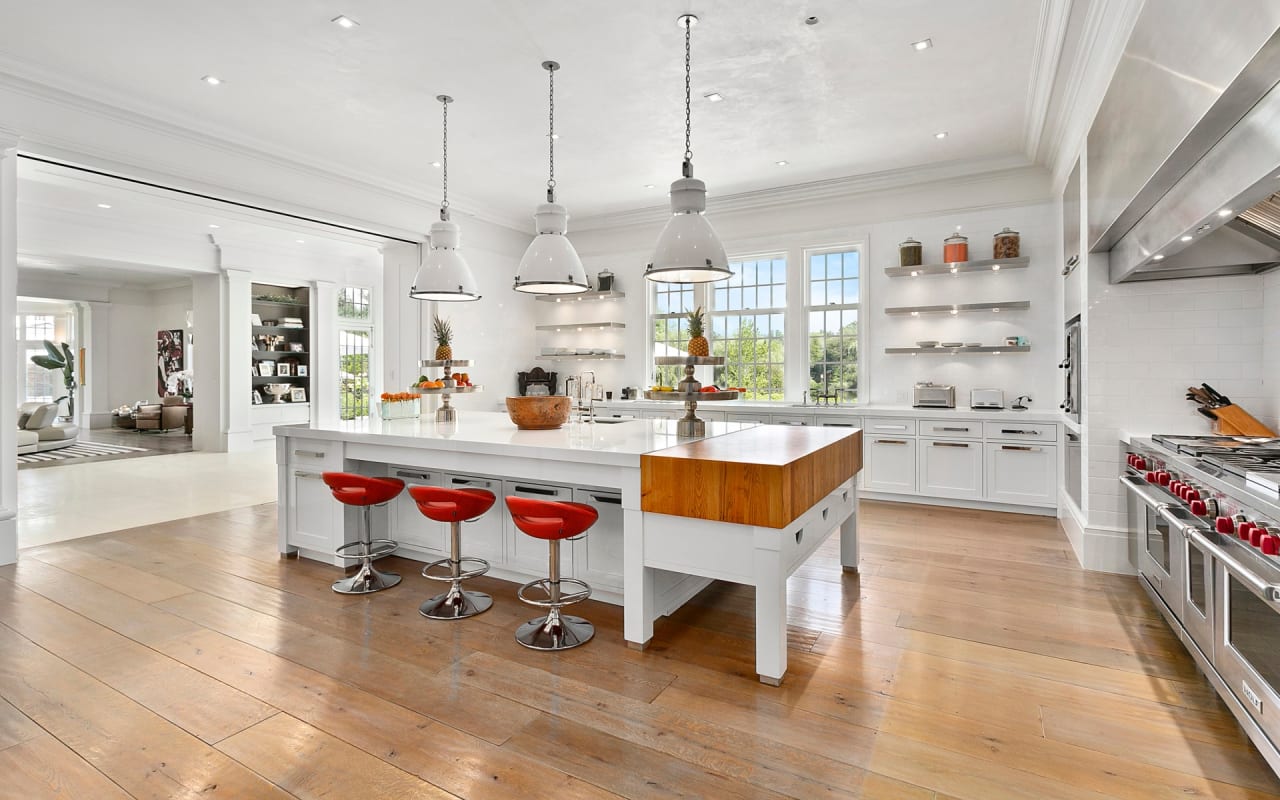 An elegant mix of materials in a backcountry Greenwich CT home.
As a once upon a time kitchen designer for luxury homes, I take kitchens seriously. For good reason: the kitchen is arguably the most important room in the house; well, at least it's where most people spend the majority of their time. From a design stance, kitchens have a life span of 8-10 years, so if you are thinking of selling and want to maximize appeal of your home or you are simply ready for a new kitchen, read on.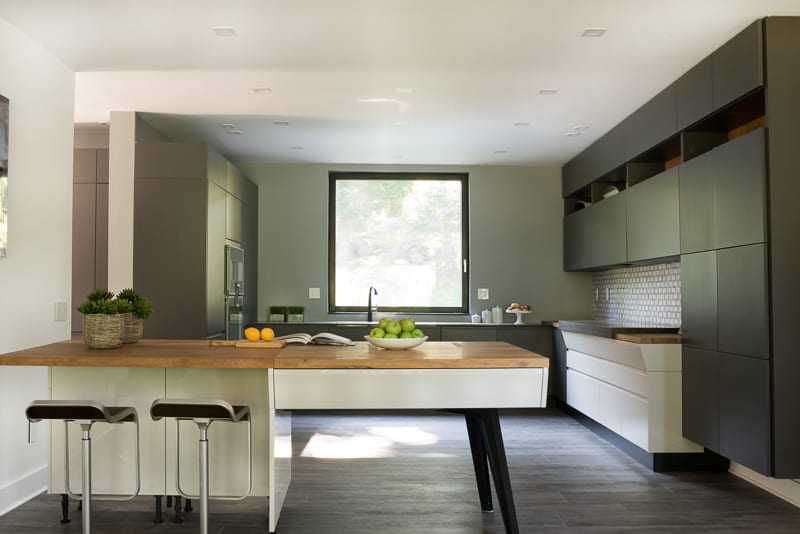 Specialty wood countertops, vinyl wood flooring and sleek Italian cabinetry at 50 Sumner Rd., Greenwich ()
Combine Materials– That have complementary textures, as one style conscious couple did with a wall of commercial grade stainless steel refrigerators and polyester lacquered cabinetry (Property available for acquisition. Contact: )

Wood Countertops– And I don't mean the old butcher block. Think specialty woods as you see in the photo of this contemporary in Greenwich CT. (if you think the kitchen is to die for, wait until you see the rest of the house and the antique farmhouse that goes with it.
Quartz Rules– With the advantages over natural materials such as marble, that can be finicky to spills and drops, quartz is gaining popularity. The increase in finishes and it's improved ability to successfully mimic marble, is making it a top choice for countertops.
Ceramic Tile That Looks Like Hardwood- There are some compelling choices in tile and vinyl that truly look like hardwood. If being kind to your back is important to you, vinyl and hardwood are your top contenders, as shown in the photo above of this Greenwich property.
Bigger, Better and All Purpose Islands– Who doesn't love to eat, or for that matter work or hang out, at the island? Islands are longer, wider and more accommodating than ever before.
A New World In Appliances- Take the time to explore the newest in both function and design. My Miele Convection Oven is one of my Go To's and a steam oven is on my "wish list" for the next upgrade. As for refrigerators and freezers, unless you really are a frozen foods kind of cook, think about freezer drawers and dedicate more upper (less bending at the waist) space to a full sized refrigerator.
Ditch the Upper Cabinets- Did I really just say that? If you are a space saver and minimalist, yes, think about no upper cabinets and watch your kitchen space expand with no changes in room dimensions. Open shelves holding stacked dinnerware (white, naturally) is a chic look.
Brick Details- The counterplay of a farmhouse aesthetic with sleek modern continues to have design traction, adding warmth and texture. One particularly inventive use is in the , such as the one shown in this link, designed by Cooper Pacific Kitchens.
Banquet Seating- It's cozy and space efficient. Need I say more?
The Finishing Touches- Take a look at the Paillseyware charger and other pieces that I used to finish off the new kitchen in one of the kitchens that I designed in my decorating days. The devil, and fine taste, is in the (final) details.
For more insights on Luxury Real Estate and Design Trends, sign up to receive a copy of our weekly blog, The Whiteboard.
SHARE THIS STORY