If you spend time working from home, it's important to cultivate a space that inspires both focus and creativity. The right home office can alter your mood, boost your productivity, and set you up for success. Here are twelve ideas for revamping your home office to make the most of your workspace.
Change the Paint Color

Repainting a room is a quick fix that creates a monumental change. Color can dramatically impact the feel of a room, and choosing the right color for your home office can influence your productivity. Choose an earthy hue to ground you so that you can enter meetings with a level head and a clear mind. Deep blues and greens are popular home office colors because they inspire serenity and peace. However, it's your office — choose a color that inspires you! Go for something fresh like brilliant whites with a pop of color, and if vibrant hues inspire you, don't be afraid to choose a bright paint color, like seafoam green or daffodil yellow, for an accent wall. Set the mood with bold black and woodsy neutrals for a sophisticated work area that is empowering and daring. With paint, the possibilities are endless.
Let There Be Light

Forget stale fluorescent bulbs — natural light can breathe new life into your home office. If you're fortunate enough to have large windows in your office, consider sheer window treatments to reduce screen glare while still letting the light in. For rooms with some but not excessive natural light, make the most of what you have by establishing a bright color scheme throughout the room so that your walls reflect as much light as possible. Adding an accent mirror will also help the room feel lighter and more spacious. However, if your home office doesn't have much light coming from outdoors, incorporating light fixtures into your design keeps your workspace well-lit so that it's easier to focus. A chic desk lamp makes it easy to adjust the light on your tabletop, while a floor lamp adds a nice glow throughout the room
Re-Stain Your Desk

In the office, the desk is often the heart of the space. It's where you write emails, take meetings, and do all your best thinking. After a while, you might get tired of seeing the same thing every day. If your desk's looking shabby, revamp the color with a quick stain to change your workspace. For an even bigger change, give your desk a complete makeover with a few coats of paint. A color-blocked desk has a mid-century modern feel to it, and it will flex your artistic muscles. You'll feel a burst of new creativity by implementing change, and a quick redecoration is simple enough to do in a weekend so that you can start fresh on Monday.
Build a Library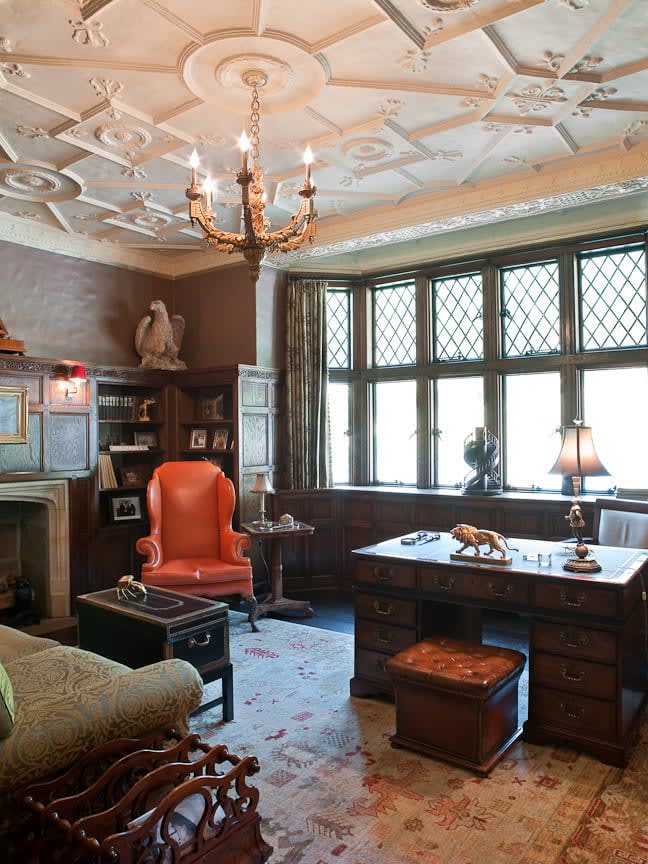 A home library makes a big statement. Transforming your home office into a reading den will keep you inspired by the abundance of text at your fingertips. Plus, you'll be showing off your taste in literature. Incorporating books into your office design acts as a talking piece for guests, adds warmth to the atmosphere, and creates plenty of room for personal memorabilia as well as important tomes with the extra shelf space. Floor-to-ceiling bookshelves are a dramatic backdrop for any Zoom meeting, but if you prefer something a little more subdued, adding a smaller bookcase to your home office will still provide your workspace with a little textual texture without overwhelming your design.
Statement Desk Chair

If you spend a lot of time in your home office, you'll want a desk chair that is comfortable to sit in for long hours. However, you don't have to sacrifice style for the sake of usability. A big, comfy desk chair will help you settle into your home office for a long day of work and keep your design dressed to the nines. Consider this armless, tufted chair from Wayfair in vibrant aqua. Its armless design and roller-wheel legs make it easy to slide into and out of for busy workdays, the high backrest provides optimal support, and the nailhead trim provides a touch of texture for an edgier look.
Go Minimal

Maybe you're feeling overwhelmed by clutter. Cut out the excess and go for a more minimal look to reboot your creativity. Giving your home office a deep clean can help revitalize your workspace so that you won't be distracted by stacks of forgotten books, scrap pieces of paper with scribbled notes, and the paperwork you were supposed to file last week. Then, pare back the design elements in the room and opt for chic, timeless pieces that don't command too much of your attention.
Install Open Shelving

If you're tired of shuffling through closed drawers and cabinets while trying to find your most important work materials, consider installing open shelving. Opposed to clunky cabinetry, which can quickly become cluttered, this design is both fashionable and functional. Quick-reach items are most accessible through open shelving, and the style allows you to incorporate decor that matches your aesthetic. Floating shelves are popular for their sleek design, but open shelving comes in a variety of styles or can be handmade in a weekend for a DIY project.
Grow Wild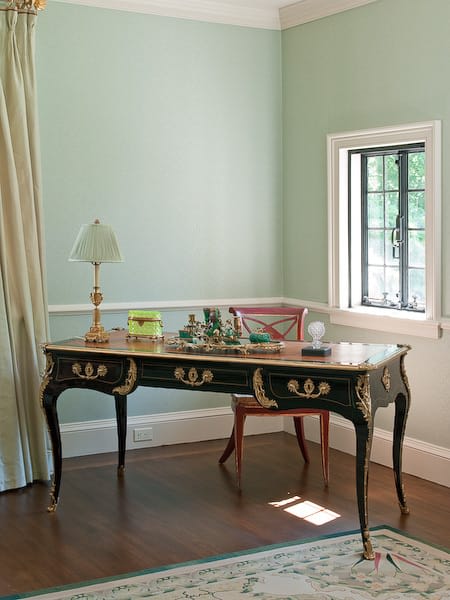 Incorporating live houseplants into your workspace can energize the area with calm vitality. Plants have been proven to boost mood, increase productivity, and reduce stress, which makes them the perfect addition to your home office. A few easy-care green plants that can make a tremendous impact on your home office include the snake plant, English ivy, and the ZZ plant. If you prefer a touch of color, try the African violet or a peace lily. However, if you don't want to concern yourself with over- or under-watering, go faux. You'll enjoy the benefits of a natural splash of color without the hassle of caring for a living plant. No green thumb necessary.
Add a Statement Print

A contrasting statement wall can add dimension to any room, but you can take it one step further with funky printed wallpaper. This element of surprise ups the cool factor in any room, but it's perfect for adding a touch of your personality in your home office. Try out a geometrical design like a honeycomb for an element of symmetry that evokes serenity. A bold animal print is perfect for a natural touch with a fierce undertone. Keep things groovy with retro paisley or a timeless gingham checker. Not sure you're ready to fully commit? Consider temporary wallpaper while you decide.
Mix and Match Textures

Thoughtful design often incorporates many different textures to create dimension. There are endless ways to do this in a home office. Create variety in your workspace to give it a visual contrast without skimping on comfort. If you've got a leather armchair, consider a sherpa rug. The loose, fluffy texture of the rug is warm and inviting, but the sophisticated look of a leather armchair says that you're the boss. If your desk is made with raw material for a farmhouse chic surface, take it up a notch with metal hardware to add an element of surprise and an extra dose of texture.
Monochrome Magic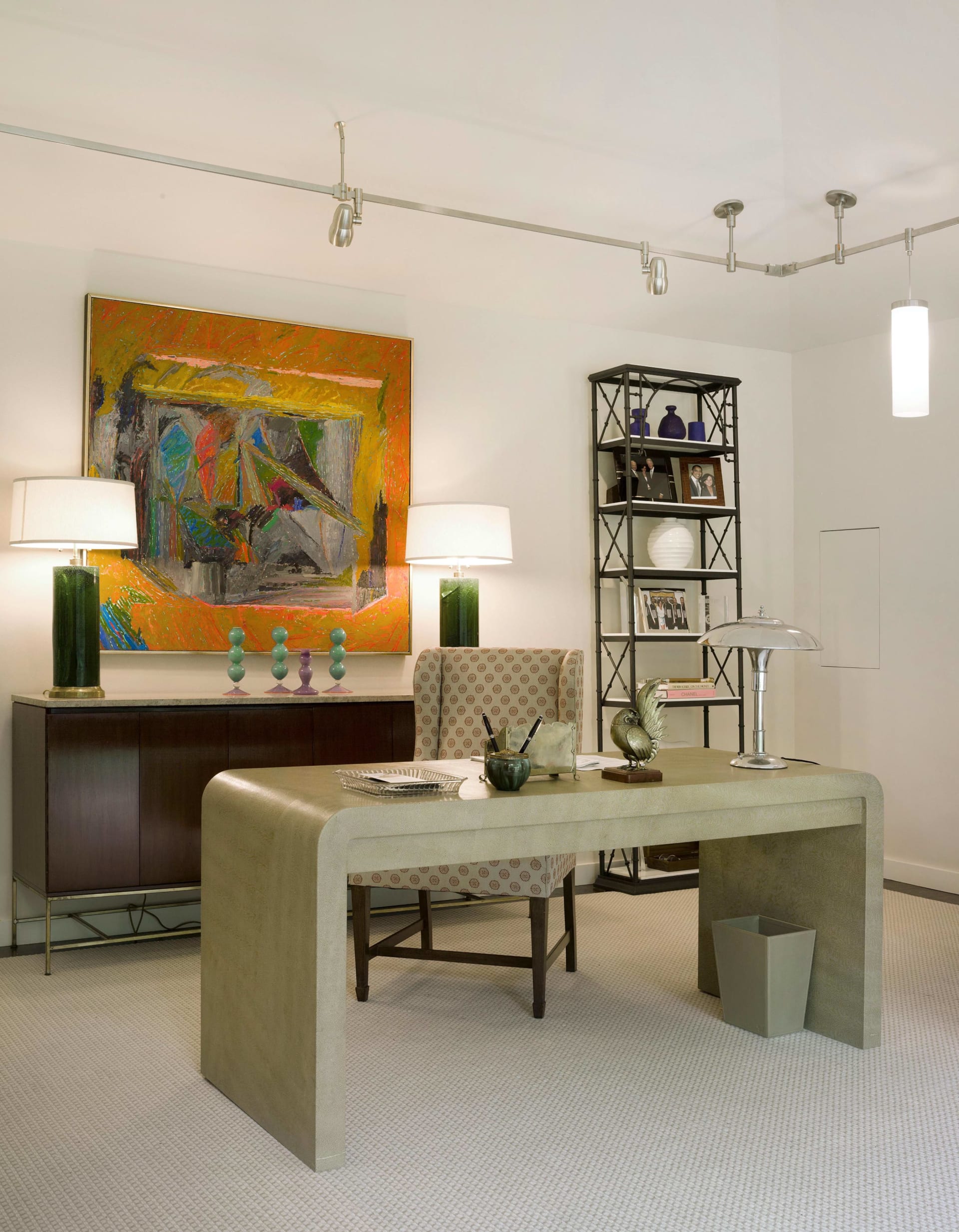 If you crave simplicity, opt for a black-and-white themed office. This complete office makeover will transform a drab workspace into a mesmerizing interior that is sure to impress. The bold contrast will create crisp lines throughout the room, and the inspiring simplicity of a monochrome design keeps things laser-focused all day long. This contemporary look is not for the faint-hearted, and you'll show off your daring nature with a design that speaks volumes.
Add a Seating Area

Adding a couch or a set of chairs to your office space makes it accessible to guests should you need to entertain at home. If you ever host clients, ample seating is an absolute must in your home office. You'll want a space to exchange ideas, discuss business plans, and schedule meetings. Plus, incorporating a seating area in your office also gives you a space to kick back on your 10-minute break without clocking out for the day.
As we spend more time at home working, having the perfect home office is more important than ever. These design tips will help you spruce up your work area and create a productive, inspiring space. If you're curious about working with a real estate agent in Greenwich, CT, I'd be happy to answer any questions about Greenwich, CT homes for sale.
SHARE THIS STORY