Vogue
recently called Litchfield County, Connecticut, the "
perfect weekend getaway
" and noted that the worst part of the trip was the drive home, realizing you had to wait until another weekend to return. But what if you didn't have to drive home, because it was your home? Luxury homes for sale in Connecticut were hard to find even a few months ago, but as the real estate market starts to breathe a bit more, Litchfield County and Greenwich real estate have become more accessible.
Litchfield County is known for having something for everyone, with an incredible restaurant scene, a plethora of art galleries, quality boutique shops, and coffee roasters along every downtown street. And one standout feature is the nature the county is surrounded by. With rolling greens, gorgeous views, and plenty of wild spaces to explore, Litchfield County truly is a paradise for those looking to escape into the great outdoors. The hiking, kayaking, and boating options are almost endless, and that is also true of the many outdoor opportunities in neighboring New York State areas.
These are the seven best day hikes you can try this summer and fall, all within around an hour of the best Greenwich real estate in Litchfield County. All feature different levels of difficulty, so whether you're a fitness guru looking to get outside more or if you just want to enjoy a leisurely day outside, there is something to suit everyone's taste.
Mount Tom State Park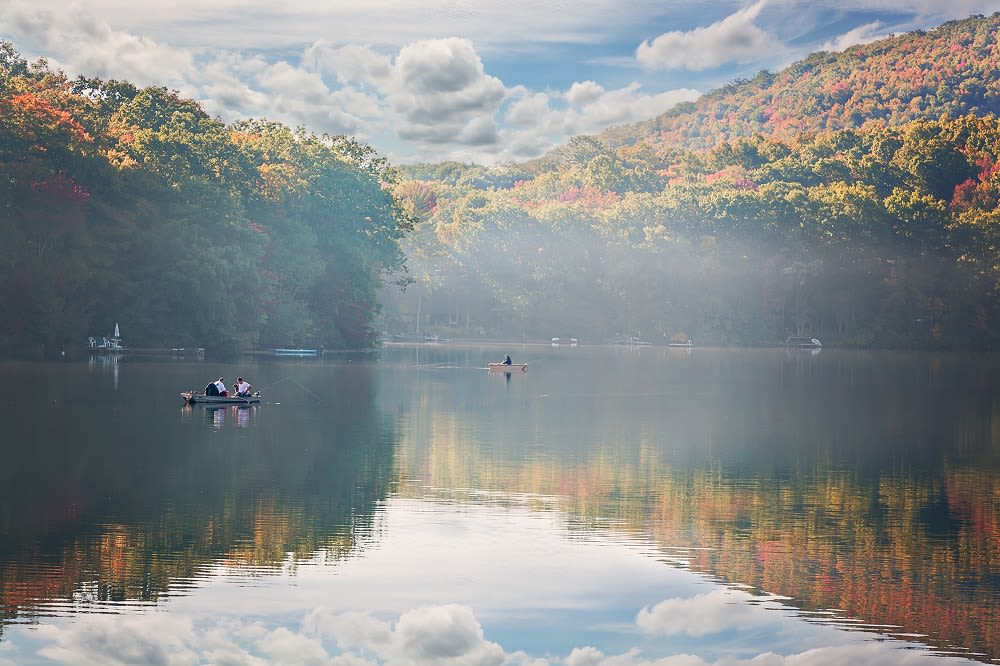 Photo courtesy of Visit CT
Mount Tom State Park has been a Litchfield County favorite for quite a long time – it's actually one of the
oldest state parks
within Connecticut. There are 22 miles of hiking trails in total but our favorite is the Kay Bee Trail. At 6.5 miles in length, this out and back hike is fairly challenging with over 1,200 feet of elevation gain. The view you get across much of Connecticut is stunning and well worth the adventure to get there. After your hike, take a
dip in the lake
to cool off before heading back home!
Hyde Park Trail System
The
Hyde Park Trail System
, maintained by the town of Hyde Park, is one of the best-kept secrets in Dutchess County. Many owners of nearby luxury homes for sale in Connecticut visit this area because of the extensive, well-maintained trail systems.
There are a total of 34 miles of trails, with some as short as just 0.7 miles and the longest stretching about 4.2 miles round trip. One of the most iconic hikes would be the
Vanderbilt loop
, which commences at the
Vanderbilt Mansion
and travels through forests of gorgeous greenery with sweeping vistas of the river. Honestly, though, there's not a bad hike in the bunch.
Peach Hill Park
Peach Hill Park trails are a hidden gem for Hudson Valley and Connecticut homeowners.
Peach Hill Park
sprawls over nearly 160 acres in Poughkeepsie, New York, and has several different hiking trails featuring various difficulty levels, views of the area, and lengths ranging from 0.4 to 5.4 miles. All of the trails are clearly labeled with a map available right at the entrance. Even the most challenging of trails have an easy incline – perfect for little ones still learning to explore.
The best part of Peach Hill Park? If you come at the right time of the year, you'll be walking through acres of orchards. Bring a backpack and grab some fresh apples to take home with you – yes, for free! Their motto, posted on all the signs, is "Please – leave nothing but footprints, take nothing but memories… and apples".
Mount Beacon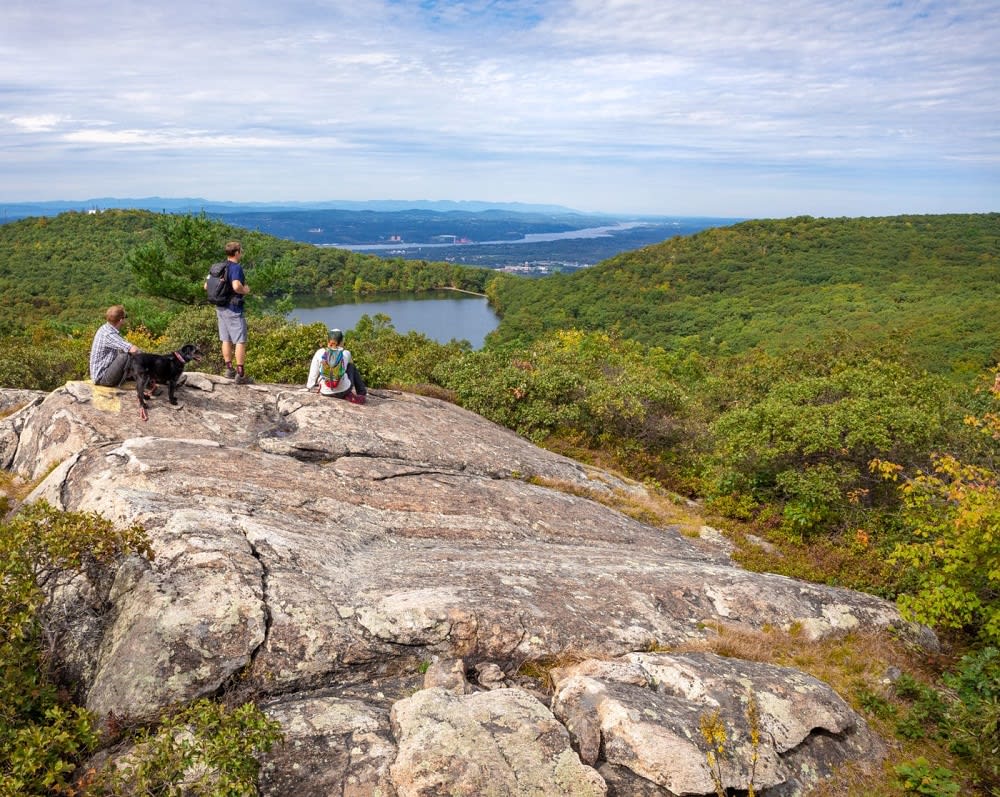 Photo courtesy of Scenic Hudson
The
Mount Beacon hike
, has the highest peak in the Hudson Highlands and is about an hour-and-a-half away from Greenwich. This adventure is not for someone just starting their fitness journey, as you get to the trail by ascending around 200 steps. Then, you're met with rocky switchbacks before you get to the first viewpoint – Casino Overlook. At this point, you will have climbed over 500 feet of elevation at 2.4 miles round trip, and you can stop there if you like.
The trail also continues for an additional 500 feet of elevation gain over 2 more miles to finish at a recently-renovated fire tower. This sturdy tower offers some of the most incredible views of the Hudson Valley you will find. It's completely safe to visit, and guests are encouraged to head to the top for incredible views and photo opportunities.
Catfish Loop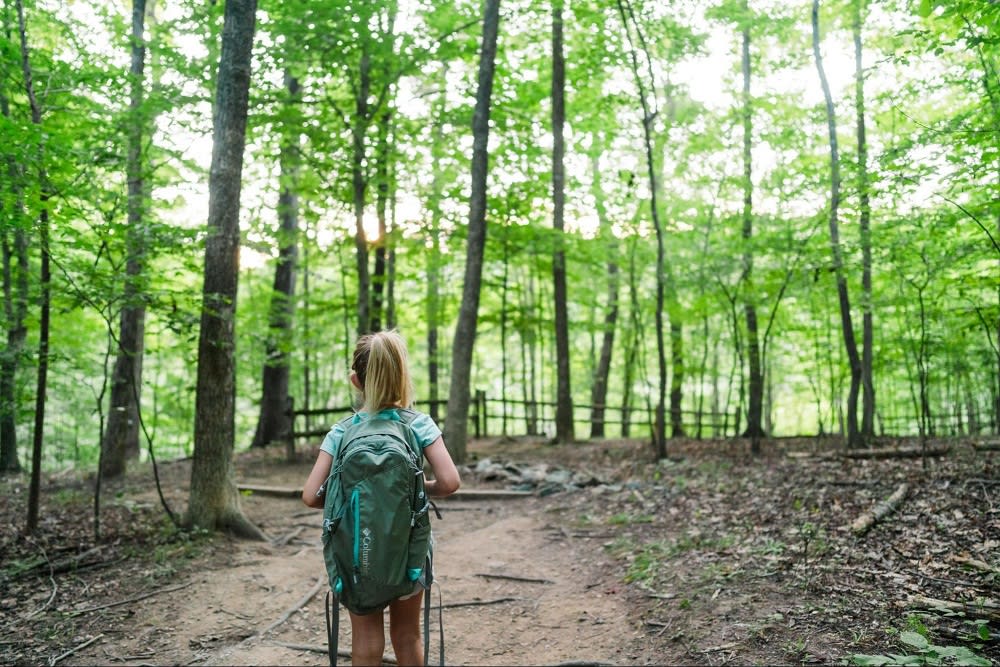 Source: Unsplash
If you want a leisurely walk through the woods while escaping your Greenwich real estate, the 5.2-mile-long
Catfish Loop
in Clarence Fahnestock State Park is about an hour away and the perfect trip for you. The hike actually starts along the Appalachian Trail and, because of its location, doesn't get a lot of foot traffic even during the busy season. There's only one viewpoint on the trail, but it features plenty of gorgeous nature, trees, and other wildlife.
Pelton Pon
This is the perfect, easy day hike to introduce young children to the outdoors to enjoy plenty of natural beauty.
Pelton Pond
hike is a 1.1-mile loop around a small pond, and, during the spring and summer, visitors can spot beavers, deer, fish, turtles, ducks, and geese. There's plenty of green space, so consider packing a lunch and making your trip a full afternoon with a picnic, all about an hour away from Greenwich. Luxury homes for sale in Connecticut often have a good bit of land, but there's something special about eating by the water in a park.
Appalachian Trail Loop
Still looking for adventure? The
Appalachian Trail Loop
is nearly 8 miles long near Fishkill, New York. This trail has over 1,000 feet of elevation gain in total and, despite the name, only has only 3.5 miles along the actual Appalachian Trail. It features several lake and pond views, travels past old mining spots, and gorgeous natural vistas. This trail does get busy during peak season, but there's more than enough room for guests to spread out and share.
Options further out
If you're living in Litchfield County, don't hesitate to drive a little further out for more incredible hiking opportunities. Just an hour-and-a-half north is the Berkshires, which is filled with a plethora of trails to enjoy. The
Housatonic Flats Reserve
in the Berkshires has 26 acres to explore, and it's stunningly beautiful in the spring when everything is in bloom.
Steadman Pond at Hudson-Howard
is ideal for families who want isolation and peace as it's attached to a nearly 800-acre reserve and features a swimming dock – although there are no lifeguards – and room to boat.
The
Bellamy Preserve
in New Hampshire is a bit of a drive from most Greenwich real estate, but it's a rewarding and educational hike for kids and adults alike. The 2.4-mile out-and-back hike is mostly flat with incredible views of the water and nearby wetlands. Because this is a preserve, visitors can experience an incredible array of wildlife you can't see elsewhere. Just be sure to bring sturdy shoes – some of the hike can be a bit muddy!
Litchfield County and the surrounding area have so many incredible opportunities to get outside and experience nature; it's almost incredible it is so close to such dynamic and bustling towns and cities. It's no wonder the area has been called a
"classier Hamptons"
getaway and has become such a destination and dream location.
If you're convinced you don't want to make the trip home and you're ready to look at luxury homes for sale in Connecticut, please don't hesitate to reach out to
Robin Kencel
today for expert guidance. Robin is a Connecticut native with extensive real estate experience who understands this competitive market. Whether you're looking at Greenwich real estate to stay close to the city or want to sprawl out on land deeper in Litchfield County, Robin and her team would love to show you some of the most impressive residential opportunities the area has to offer.
SHARE THIS STORY