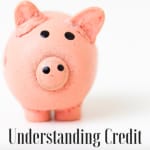 Long before you've decided to put your home on the market, there is at least one step you can take that might make the whole project more financially rewarding. It's a step that might seem to be counterintuitive—but when you consider the bigger financial picture, it makes perfect sense.
​​​​​​​
The action in question has to do with your own credit—which may not seem relevant at first blush. After all, it's the credit status of the prospective buyers that seem to be what matters—not your own credit, right?
That's only true as far as it goes. The fact is that for the majority of homeowners selling your property is just Step One. Step Two is the purchase of your next residence. Especially if your own.
financial profile is perfectly acceptable (and bound to become even more solid once you've banked the gains from the sale of your current property), it's a simple truth that an even higher credit score will earn offers of a lower mortgage interest rate on that next property. And with interest rates rising, a small percentage point increment can result in a big difference in "cash out" over the long haul.


So, what advance steps can you take to improve your own credit? Aside from those that everyone knows, like paying credit card bills– and mortgage payments– on time one thought is to take out a personal loan—even if you don't really need it!
​​​​​​​

I don't offer financial advice, so this would be something you would run by your own CPA or other trusted financial counselor. But as J.M. Simon and Brady Porche write, if you want a top FICO score ("the kind that gets you the best rates, the highest limits") you're "going to have to mix it up a bit"—meaning build a credit history that shows responsible use of different kinds of credit. The types of credit used is, in fact, one of the five factors that lenders measure—and it's said to account for about 10% of a consumer's FICO score. So establishing a personal loan, financing a retail store purchase, or opening some other previously untapped variety of credit can result in an improved score. Since that can take a while to register, advance planning pays off.
SHARE THIS STORY