Lately, I have been working with an adorable couple looking to purchase their first home here in Greenwich. They are no strangers to the area as the husband grew up in Fairfield County. We found a perfect rental town home for them last fall in the center of Greenwich, which has given them time to get to know the different faces of Greenwich, and they have settled on wanting to find their permanent home in Old Greenwich or Riverside.

It is easy to see why Old Greenwich and Riverside have such fiercely loyal communities. I took part in this year's Memorial Day Parade as a member of the League of Women Voters Greenwich chapter, and it was right out of a chapter from my youth.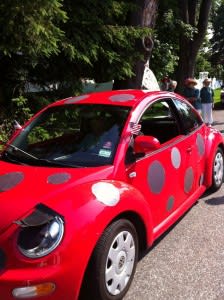 To the left here, is a car that thought it was a ladybug. Note the attention to detail down to the feathered eyelashes on the headlight. I wonder if it has a mind of it's own like Ted (if you haven't seen it, put the movie TED on your must see list if you don't mind a bong toting, smarty mouth stuffed animal).

Someone spent a lot of time and creative energy getting this little bug ready for a ride down the red carpet of Sound Beach Ave.

Then there were the people representing the organizations themselves, largely from Old Greenwich but from the larger community of Greenwich as well. Civic pride is an allusive thing and not always felt until a day when a parade is in action.

My hat is off particularly to the Old Greenwich Garden Club, the different school marching bands, youth sports teams, cheerleading groups and of course, the firemen and policemen.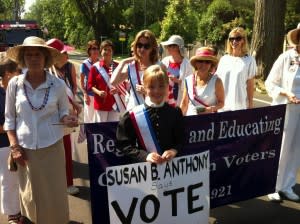 Here is our merry band, the League of Women Voters, with "Susan B Anthony" at our helm.

I will leave you with some real estate stats on Old Greenwich, all based on recent one year data.
18% of the 606 homes that sold in Greenwich during the 7/8/11-7/8/12 period, were located in Old Greenwich. Old Greenwich homes sold at a higher price/square foot than those in the other Greenwich communities at $534/sq. ft. vs. $440/sq ft. Old Greenwich homes sold at a slightly higher Sales to List Price at 94% and were on the market 8 days more on average (139 Days on Market) than those selling in the rest of the town. The average size house that sold in Old Greenwich during this time was 2,688 sq. ft.

It's 7 a.m. and the sun is shining full on already. Might be the perfect day to head down to Tod's Point and grab an ice cream at Darlene's Heavenly Desires, just one of the mainstays of Old Greenwich and a treat in itself.
​​​​​​​
Search homes and rentals on the MLS
Contact Robin Kencel for help locating and acquiring a home or rental.
SHARE THIS STORY