23 Khakum Wood Road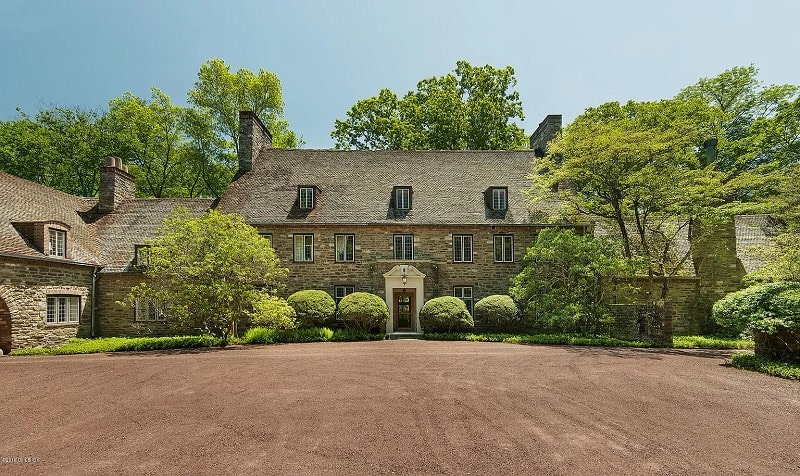 Tucked away in the most prestigious mid-country Connecticut enclave and set against a lush woodland backdrop is a storybook property come to life at 23 Khakum Wood Road. Designed by the Offices of Frederick Law Olmstead –– creator of Manhattan's Central Park and London's Queens Park –– Khakum Wood is reminiscent of Olmsted's Manhattan masterpiece, complete with two lakes and a gently rolling landscape.

Despite being located just minutes from downtown Greenwich, Khakum Woods is in harmony with its natural surroundings. When you're here, you'll feel so transported it's hard to believe that you're close to the best shopping and restaurants around.

Sprawling across 13,063 sq. feet with seven bedrooms and seven bathrooms, this sweeping Norman French-style estate designed by Harrie T. Lindberg, upholds the essence of sophistication and timeless artistry.

In the reception room, you're immediately greeted by polished, quarter-sawn oak flooring and elegant french doors leading out onto the terrace and garden. Continue into the house to visit the living room, with its vaulted pine and oak ceiling, original carved limestone fireplace and additional french doors.

The first floor then empties into the library, a majestic room brimming with knowledge and academia, from its original mantel and oak paneling to the secret liquor cabinet! You'll also find the butler's pantry, a kitchen with an island, the den and a staff bedroom and bath on the first level.

Ascend the staircase to the second floor to visit the master suite, characterized by two dressing rooms and his and her baths. Guests will enjoy staying in the sumptuous double bedrooms with a shared bath, and there's plenty of room for amenities with the addition of two laundry rooms and a staff apartment.

Khakum Wood's third level is home to two barrel-vaulted guest suites, each with a full bath. The property's lowest level is where you'll find a separate caretaker's apartment, wine cellar, living room, kitchen, bath, dry bar and rathskeller.

An exquisite, architectural manor exuding grandeur, the entirety of this dignified pre-war masterpiece is Olmstead-designed with original European details intact and additional luxuries such as plaster moldings, leaded glass windows, a Ludovici tile roof and classical period hardware. Plus, the hourglass pool and wine cellar make the perfect combination for a relaxing summer's day.
Sunridge Farm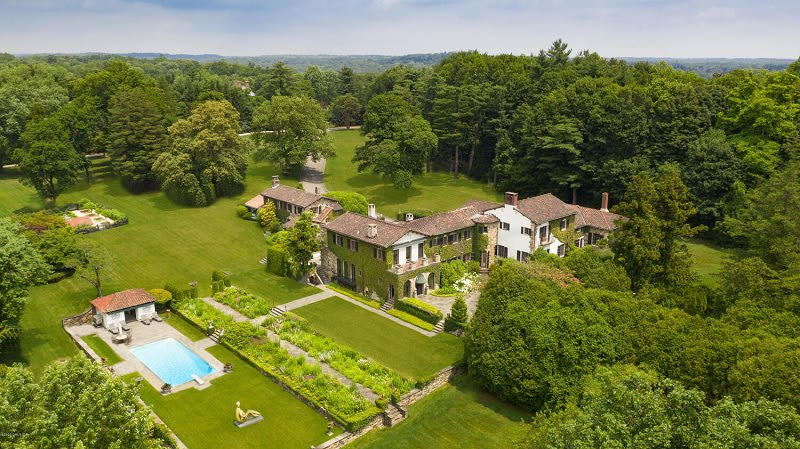 Sunridge Farm is a gorgeous Italian-style villa dating back to the early 20th century. Although primarily built in 1912, this homestead features a few later additions from 1928. Reminiscent of northern Italy's farm homes from the Veneto region, this sprawling estate features a distinctive Lucovido barrel-tiled roof and wrought-iron grillwork to highlight its unique flair.

Featuring eight bedrooms, eight bathrooms and two and a half bathrooms, Sunridge Farms totals more than 11,000 square feet of living space. The ornate front entranceway opens into a long loggia, leading to generously proportioned and exquisitely detailed front rooms. Careful attention was paid to every element within the home, evident from the bronze casement windows to the hardware, fireplaces and finishes. If you continue walking along the first floor, you'll come to a dining room, library, kitchen and breakfast room.

Upstairs is where the majority of house bedrooms reside, including the master suite with two dressing rooms and two bathrooms, four family bedrooms, three full bathrooms and a home office. The staff quarters and laundry room are on the property's lowest level.

Beyond the house, a charming guest cottage (also constructed in Italian style) makes the perfect mother-in-law suite complete with three bedrooms and two baths. The first floor features a generous living room/dining room and a cook's kitchen.

Dappled with trees and tasteful landscaping, the Sunridge Farms' grounds stretch ten acres, encompassing a pool and pool house positioned just beyond the expansive vegetable and cut flower gardens. A thicket of massive, graceful oak trees hides an additional, secret garden. Then the tennis court is smartly tucked away into its own corner to keep any stray balls or rackets from disturbing anyone who wants to enjoy the lush natural oasis or a tranquil swim in the pool.
78 Pecksland Road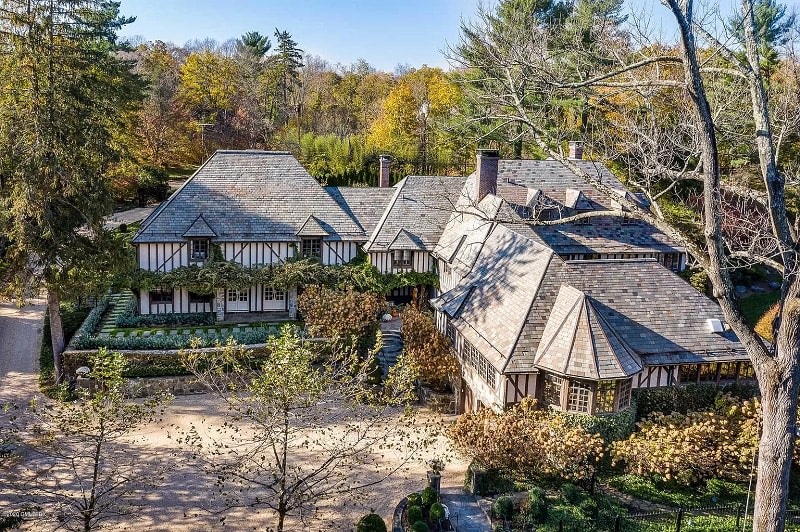 This exquisite stone English manor is one of the most elegant and beautiful homes in Greenwich, Connecticut. Renowned for its sprawling courtyard full of natural light, idyllic gardens and grand terraces, 78 Pecksland Road offers the perfect blend of modern living with classic charm.

Since its creation in 1925, this splendid manor has been completely renovated and restored. It now rests on 2.5 acres situated behind an immaculate wrought-iron gate and retains the many remarkable architectural details that make it stand out as a paragon of 20th-century sophistication.

Apart from its high-end finishes and modern high-tech amenities, this illustrious home celebrates its classic feel with custom features like moldings, extensive millwork, raised paneling, gracious patios, lush gardens and a separate detached staff quarter. When you step through the French doors onto the terrace, you can see the gorgeous pool pavilion with the heated pool floats and a fully-equipped pool house alongside a children's playhouse.

Altogether, the manor contains more than 13,400 square feet of living space, including nine bedrooms and ten bathrooms (two half baths). Additional amenities included in the house include central air, appliances, a stone exterior, a slate roof, cathedral ceilings, a laundry room, a full basement and much more.

The master bedroom includes a sitting area and multiple walk-in closets, along with two luxury bathrooms and a separate shower. A wet bar and cathedral ceilings are featured in the family room, which sits adjacent to the kitchen. The kitchen was recently updated and includes a gourmet set-up, an island and a beamed ceiling.

The house also includes a playroom, media room, mudroom and exercise room, along with a fenced yard, built-in security system, back stairs, automatic gate, automatic garage door, an attached two-car garage and generator.

Despite its innate privacy, 78 Pecksland Road is only a few miles away from some of Greenwich's best public schools, including Glenville School and Western Middle School.
Looking for a luxurious Greenwich home? Contact me today. I'd be happy to serve as your
real estate agent in Greenwich, CT
and answer any questions about Greenwich, CT homes for sale.
SHARE THIS STORY