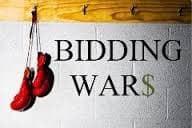 If you are in the market to buy a new home this spring, you may find yourself with other hopefuls nipping at your heels as you hone in on a property. Certainly if you are looking for a home between $1.5 million and $3 million dollars in Old Greenwich or Riverside you can expect to have some company at the bidding table. Falling in love with a house is even more dangerous than going for Bradley Cooper. One you know you have no shot at, so it pretty much remains a pie-in-the-sky ideal, while the other you can end up totally wrapped in and sideways about as you imagine walking through that front door. The spring market has begun– despite what the groundhog said, as seen in multiple offers and bid battles in some hot areas of Greenwich, including Old Greenwich and Riverside, and properties priced under $2.5 million.
Rule Number One: Stay unemotional, no matter how strongly you feel you have found your dream home. Secondly, make a list of Pros and Cons, assessing the home in a rationale way. Think about how you live and the rooms that you live in. What are real priorities for your family in the home?
Then ask yourself: At what number would I be comfortable walking away from this house if someone overbids me? The answer to this can keep you from falling into an auction frenzy mentality, as can be the case if multiple offers go to sealed bids or a deadline for submission.
Losing a bid war is never pleasant. And hearing "where one door closes another opens", feels like a bad pun when you have just seen the front door that you were hoping to walk through slam shut. Thirty years of buying and selling real estate, and representing buyers and sellers, tells me that there will always be another house for you. Remember, a house is just stone, shingle, bricks and mortar. What makes it a home is what you do to it and how you live in it.
​​​​​​​
SHARE THIS STORY