Every morning after my work out with Tina the Trainer or Bikram yoga at the Yoga Center on Greenwich Avenue, I work my way down to Versailles for a cappuccino and nibble of the day's pastry samplings. Most mornings, the "regulars" are there, including John, a hedge fund guy who reads the financial rags while he grabs some breakfast.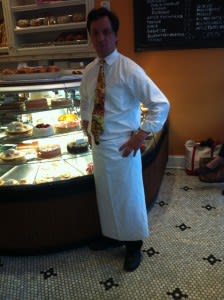 Meet Max
Max, a waiter there, was even more buoyant then normal on a recent morning.
"John bought me a pair of shoes for his birthday!", Max told me. "Gucci loafers!"
Apparently, it was John's birthday and he came in at lunchtime telling Max they needed to take a walk down the Avenue. First stop was several doors down, Richards clothing shop. It was John's birthday and he shares a tradition that I also have– give away gifts to whomever comes to your mind on your birthday. It is such a delight to surprise someone with a reverse gift on your birthday.
As Max said, "I love the shoes but what was even more fun was that they were so unexpected!"
Try the tradition and see how you feel!
Search homes and rentals on the MLS
Contact Robin Kencel for help locating and acquiring a home or rental.
SHARE THIS STORY