What Is Architectural Digest's Ultimate Guide to Interior Decorating?


When it comes to interior decorating, it's out with the old and in with the new! This year,
AD
put together a collection of decorating inspiration to reimagine your space, introducing a plethora of new and exciting trends, which include everything from incorporating more colors to emphasizing the importance of sustainable designs. Green interiors that are eco-friendly are turning out to be one of the hottest 2021 trends thus far.
As more and more people shift to working from home indefinitely, it is more important than ever to create a space that you love. With that in mind, interior decorating is more important than ever. Re-envisioning your space can help breathe new life into stale decor and help you feel more at home.
Interior decorating has a plethora of other perks that are worth noting. This includes everything from optimizing the space your home offers to improving the color effects to creating an ambiance that you love. However, if you're unsure where to start when it comes to decorating your home, don't worry! With a few expert tips, celebrity inside scoops, and overarching interior design advice,
AD created a lookbook
for spring decor trends to help make them a bit more accessible.
A Few of Robin's Favorite Tips & Tricks


Use the Mantel as a Centerpiece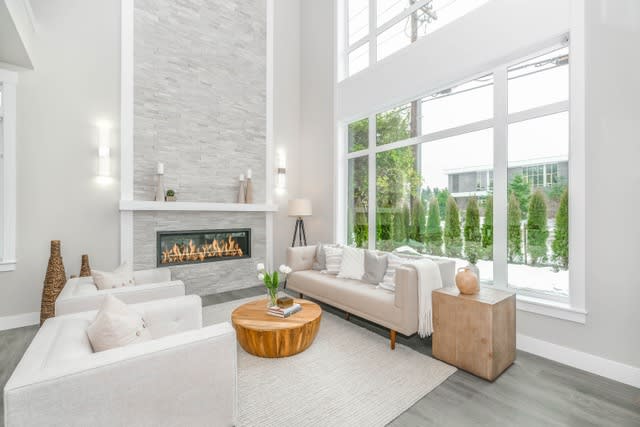 The mantel is the anchor for any room with a fireplace and often becomes the focal point. As such, this shouldn't be overlooked or forgotten. When it comes to decorating the mantel, there are a few important tips and tricks to keep in mind.
First, don't cram your mantel with unnecessary items. This step is especially important, as you don't want your mantel to look overcrowded and cluttered. When too many items are clumped together, they get lost and no longer stand out. To avoid that, give your display plenty of room to breathe. Make each addition to the mantel purposeful, and use it as a centerpiece to focus the room. It's also a good idea to use items of different shapes and sizes. Start with taller items at the back and use smaller items as you work your way forward. Layering items helps create the level of depth that is essential in every kind of vignette or display.
The style your mantel is decorated in can drastically change your approach to the room's decor. What style is your mantel - perhaps French or English? For instance, French mantels are often lower. Conversely, English or wood mantels tend to be taller. This affects what decorations will complement this. There are other factors to consider as well, such as the height or how elaborately ornate it is. It's a good idea to treat the mantel as you would a piece of furniture. Consider its shape, structure, color, and style before deciding how you will decorate it. Choosing mantel decor that complements its style is key!
Mantel-expert
Alexa Hampton
likens the mantel to an easel. It's the perfect place to exhibit art pieces and decor you love. Hampton notes that candles often compliment a mantel, but only if the mantel shelf is deep enough. After all, you don't want to put anything up that you will worry about knocking down!
Layer Your Bedding for Textural Depth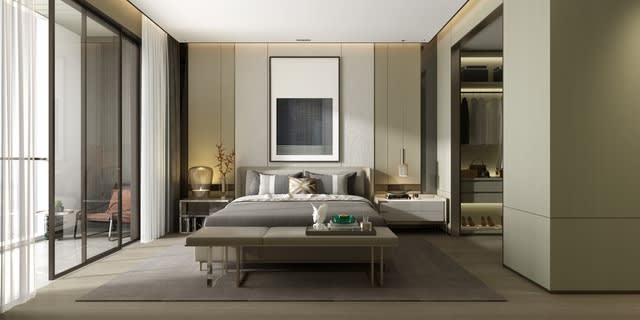 When styling your home, beds can often be overlooked as frumpy or messy, but you can create a well-curated bed with a few minor changes to make it a focal point of the room! Design and artist
Justina Blakeney
touched base with
AD
to discuss how to layer bedding for a vibrant look that's customizable for any bedroom. She notes that "your bedroom should make you feel how you want to feel—whether that's sexy, funny, cheeky, or calm," she tells AD, " and your bed is the perfect moment to express it."
When it comes to creating a bedroom that you love, there are a couple of tips that are especially helpful to follow. First, mixing patterns and textures adds depth to the bedroom and utilizes the bed as the room's primary focal point. When it comes to choosing patterns, make sure that they fit loosely within your color scheme. Next, pairing complementary colors and balancing surprising textures is imperative for finding a balance between perfectly matching and clashing choices. Keeping these two tips in mind will help you create a bedroom that you love!
Opt for Warm Tones


Long gone are the days with stark white living rooms! 2020 was undoubtedly a challenging year, which prompted people to turn to their homes for a place of solace, comfort, and coziness. With that in mind, it's no surprise that warm neutrals and deep earth tones have become a rising trend this year. 2021 has been all about bringing bold colors and warm hues to help create a welcoming space. People often buy into the myth that autumn is the only time to incorporate darker, richer tones, but that couldn't be further from the truth!
As
AD
discusses in "
31 Gorgeous Rooms Featuring Warm Colors
," there is a myriad of ways to incorporate warmer tones into your home that extend beyond autumn. Certain colors -- such as vibrant oranges and yellows, sunshiny yellows, seductive grays, and warm browns -- are just a few of the colors that
AD
suggests. The Sherwin Williams
Color of the Year
is Urbane Brown. This dark and sultry color exudes both simplicity and sophistication. Whether you choose an accent wall or a rug, this moody color will give your home a more in-depth look and feel. From sunny yellows to rustic browns, these naturally occurring colors will bring an organic flair to any room. These colors also help infuse your space with ample energy and warmth. Plus, there are many hues to choose from, which enables you to find a color that suits your style.
Painting your walls isn't the only way to incorporate warm tones into your home. You can also add plants, throw pillows, or a rug to elevate your space's aesthetic. Look to use colors that have yellow or red undertones to create a welcoming and cozy look.
Dress Up Your Cocktail Table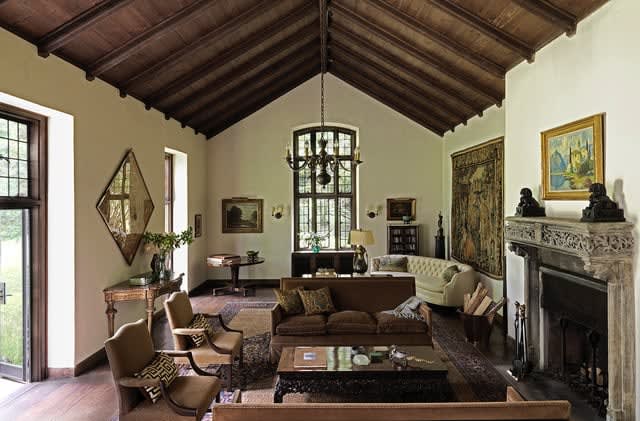 When it comes to interior decorating, your living room table is the perfect place to infuse a bit of personality into your living room. After all, your living room table doesn't just have to be a place to hold coasters! Styling your cocktail table gives it a design purpose, in addition to a functional one.
Considering how to decorate your cocktail table? You'll want to select pieces that speak to you and spark joy within you. After all, you'll likely spend plenty of time in your living room, whether you are simply relaxing or entertaining guests. With that in mind, it's important to pick pieces you love!
Cocktail tables are susceptible to collecting clutter, whether it's knick-knacks or old magazines. To avoid that, take a minimalist approach when it comes to adding objects to the table. As suggested by
designer Charles Faudree
, varying the height and scale of your cocktail table's decorative items will help create a more eye-catching vignette.
There are some factors to consider when creating a beautiful tablescape. Using different elements, such as flowers, books, trays, will help you style your coffee table like a pro. You can also focus on adding decor that plays off the color of your coffee table. For example, if the table is white or neutral, then go with bright or bold colors on top. Meanwhile, if your table is black or dark wood, add some metallic or stark white tabletop elements.
Lean Into Your Home Style


Rather than fight against the architecture of your home, simply lean in and embrace it! You'll want to create one cohesive look inside and out, elevating the esthetic of your home. This will help create a space that feels thoughtful, refined, and luxurious. Plus, interior decorating is a great way to highlight the features of your home that you particularly love!
Designer
Victoria Hagen
embraced her Nantucket home's style in a variety of ways. She used vintage textiles, a pale color palette, and incorporating patina to give everything an antique finish. Because Hagen leaned into the style of her home, the result was an inviting and beautiful space to live. You can do the same with your home, too!
If you are ready to start looking for your forever home,
contact Robin Kencel
today. Robin is an expert in everything from Backcountry homes for sale to Greenwich luxury real estate. Whether you are looking for your forever home or a vacation home, Robin is equipped and ready to help guide you through the home buying process.
SHARE THIS STORY