Christmas Eve found me still unsettled on a Christmas Day menu. Having grown up at the feet of "Orphan Annie" (as my mom, Anne Lorraine was called) who thought nothing of discussing what the dinner meal would consist of while eating lunch, claiming that our home revolved around meals is no understatement.
Mom was going to be with us for Christmas dinner and since I don't subscribe to her seven course feast concept, I had to make sure that every dish served was something she would enjoy.
headed to Portchester just for bread. Kneaded Bread at 181 N. Main St had all sorts of savory things including pumpkin bread, chocolate bread, homemade soups for the in-between snacking. I noticed Tarry Market across the street (
click here
). Tarry Market is part of Tarry Lodge owned by Mario Batali and Joe Bastianich and, if you haven't been, a treat.  Just be sure not to go on a Friday or Saturday night if you are sensitive to noisy places. Tarry Market is a mecca for foodies. It has  stellar European and local artisanal products, including hand-made pasta, house-made sausage, fresh and local produce, cured meats from the Batali family's ranch in Seattle, Grass-fed, hormone and antibiotic-free meats at the Butcher, daily-baked bread, focaccia and pastry, imported and domestic cheeses and salumi in abundance.Chef Chris, is as warm and caring a person as you could find anywhere. Despite frantic shoppers nipping at his heels, he listened to my confession of zero preparation and took me under his wing.  "Filet mignon on Christmas? Absolutely not!" he said as he heaved a strapping prime rib roast out from the case. A short time later I was out the door, covered for the holiday meal from antipasto to biscotti.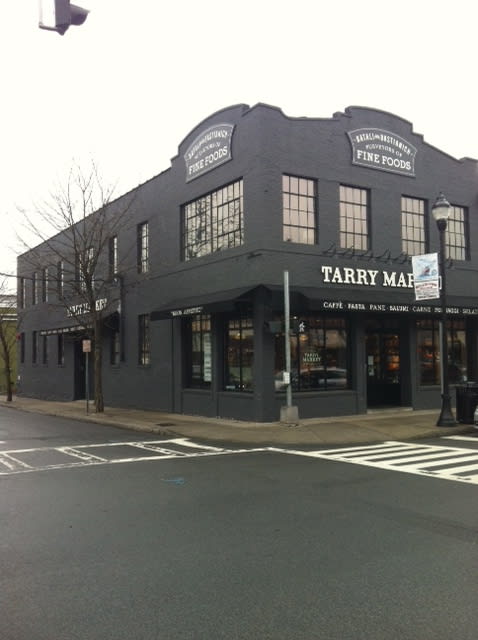 Needless to say, the meal was incredible. That is, until we got to the prime rib. It smelled incredible with a Tarry Market porcini rub slathered on it and I mean slathered. Sarah, my 22 year old, had insisted that unless it had a ¼" crust on it I was missing the point of the thing. But when we carved it, it looked way beyond "marbled" and was tough to cut. After wrestling with the meat we abandoned ship to a second  helping of manicotti.
A couple of days later I went back to Chef Chris, roast in hand.  He heard my tale and as he listened, his face got redder and redder. He asked if he could take the meat to the back room, actually he might have said the "Surgery Center". He came back with the meat neatly sliced down the center. No big fat deposits. Looked like a beauty.
"You cut it the wrong way", he explained, showing me how I should have sliced the meat behind the bones.
"You are absolutely right", I replied seeing how it looked, "It wasn't your fault at all.  I blew it!"
"Look, I take my products very seriously", Chris said. "It took me a minute just to calm down after I heard your story and that's why I needed to take the meat to the back and look at it for myself. But the bottom line is that your dinner, one of the most important meals of the year, didn't go too well. And that bothers me. So, let's start again.."
With that he reached into the case and pulled out another prime rib. "This time I am going to cut the bones off and then tie them back on. Cook it like that but when you go to cut it, untie the string and the bones will fall away. Then you can carve it easily."
"Do you like lobster and shrimp?" he went on.  I gave him the thumbs up. Walked out ten minutes later loaded down with the roast and a lobster and shrimp cocktail to beat the band. Gratis.
Now don't go buying a roast and then miscooking it in an attempt to wiggle another piece of meat out of Mr. Soft Hearted Chef Chris. The owners of Tarry Market would kill me if I were suggesting that. Nope. Just go see the amazing foods, cooked and ready to be cooked, that Chris Chef and his team have available. And give Chef Chris a big hello for me. He is the consummate example of customer service.
P.S. I dare you to leave without trying the thick cut Challah french toast in the front café.
SHARE THIS STORY