Greenwich, Connecticut, is a dreamy, bucolic town comprised of city and small town areas that each offer their own vibrant personality and mesmerizing charisma. Whether you're craving peaceful, pastoral solitude or the comfort of conveniences, Greenwich offers a little bit of everything within its 43 square miles. Get to know each of this town's enclaves to see which fit is right for you.
For the Beach Lover, Try Old Greenwich
This enclave is the oldest of Greenwich's neighborhoods, as it was the summer playground for well-off New Yorkers wishing to catch the sea breeze and some beachside fun during the summer months in the years before the railroad came and made year-round living possible. Founded in 1640, this history-rich area dates back to the original Greenwich settlement, when J. Kennedy Tod commissioned his home "Innis Arden." Old Greenwich has been a favored spot within Greenwich for many years because of its small town and neighborly feeling (think your favorite 1960s family show). You'll never run out of things to do in this upbeat corner of town because Old Greenwich is home to numerous local eateries, family-owned boutiques, and plenty of water and beach activities. It also has the most sidewalks of any Greenwich neighborhood, inviting children to ride bikes to the library, school, and of course, the beach.
Tod's Point is the key of Old Greenwich and offers activities to everyone of all ages. Tod's Point actually has two beaches, community sailing, and a 2.6-mile walking/biking loop with views of Long Island Sound, Long Island communities, and Manhattan. The revered Old Greenwich Conservancy has renovated most of the remaining original buildings on Tod's Point, including one of the original cottages, which has now become The Bruce Museum Seaside Center. This stunning maritime museum hosts various educational programs designed to engage learners of all ages and share knowledge about Long Island Sound's ecosystem. Through interactive events, a live-animal marine touch tank perfect for young children, several aquariums, and a variety of speaking events with ecological professionals, The Bruce Museum continues Old Greenwich's tradition of preservation.
If you're looking for a park to enjoy tennis, soccer, and other activities, look no further than Binney Park. This 33-acre park was donated to the Town of Greenwich and dedicated in 1933 by Mrs. Binney of Crayola Binney & Smith fame.
Stroll or bike down Old Greenwich's main street, Sound Beach Ave., and an afternoon can be spent exploring one-of-a-kind shops (you won't find any chains here!), restaurants, and cafes. Some of our personal favorites include The Mercantile, Sweet Pea's Bakery, and Athena Books.
Perrot Memorial Library is a historic entity dedicated to John Perrot, a British Loyalist and Old Greenwich's first private schoolmaster. This library has been a vital component of this neighborhood since its doors opened in 1904 and continues to be a crucial element of Old Greenwich. If you are a fan of holidays, work Old Greenwich into your holiday, where a homegrown Memorial Day parade is held each year. If you are a lover of the arts, Art on Sound Beach Avenue will be held this September (2022).
For the City Lover, Try Downtown Greenwich
Downtown Greenwich is perfect for patrons of the arts, avid shoppers, and cosmopolitans. Greenwich Avenue is at the center of downtown Greenwich. Since the town's creation, this downtown thoroughfare has remained vital to Greenwich living, and while it looks much different now than when horse-drawn buggies went down a cobblestone street, the road has played a crucial part in Greenwich's development. In 1903, Greenwich Avenue was adorned with bricks, which gave it the charming nickname the "Yellow Brick Road," and parking spots were added to the street in 1928 as automobile vehicles became widely available.
Over the years, Greenwich Avenue has transformed from its dirt path beginnings and first commercial tenant, a shoe store. Today, you'll find high-end brand-name retailers such as Apple, Zara, J. Crew, and Saks Fifth Avenue, as well as local mom-and-pop shops. Some local shopping favorites include Betteridge Jewelers, a local, family-owned fine jewelry store that remains a staple on Greenwich Avenue. If you are looking to find the perfect home decor, then Lynnens and Grayson De Vere are must-visits. Roller Rabbit is a colorful shop with bedtime and clothing options for women and children. Since Greenwich is serious about its sports, Gut Reaction and Greenwich Bicycle Shop are great places to find tennis and bike accouterments just off Greenwich Avenue.
For dining or take-out, downtown Greenwich does not disappoint. Happy Monkey, a Latin-influenced restaurant established by Jean Georges of NYC, is the newest to the scene, and perhaps Pasta Vera, owned by a local Italian family, is one of the oldest. The farm-to-table restaurant The Cottage is a favorite of ours, as is Something Natural, for its chocolate chip cookies. The culinary culture in Downtown Greenwich is unique and has a little something for everyone.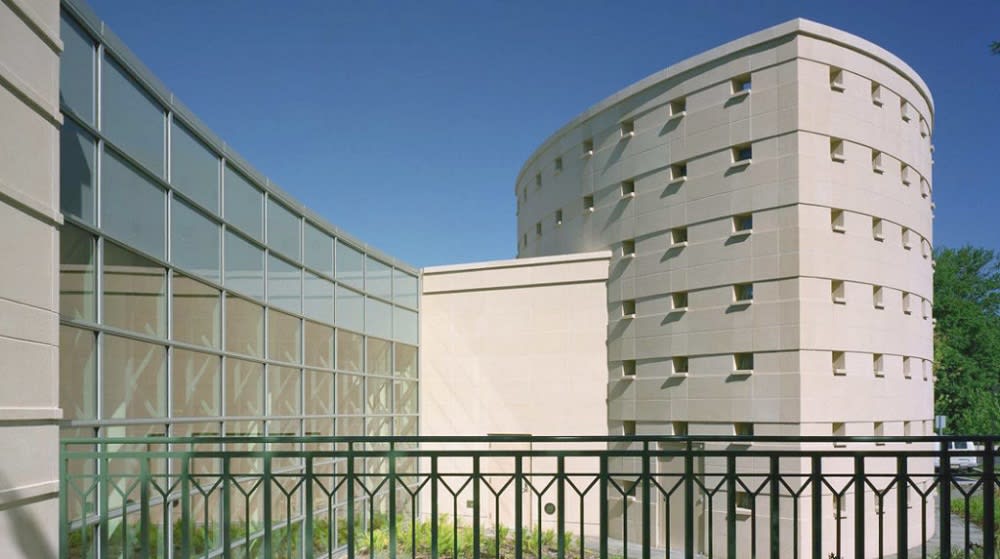 Credit: Greenwich Library
There is so much to say about the arts, but one highlight for sure is the Bruce Museum of Arts and Science. Built as the private estate of Robert Moffat Bruce in 1853, this building has transformed from the dwelling of a New York Cotton Exchange member into a world-class educational facility. This family-friendly exhibition space includes a myriad of artworks as well as science and natural history displays to complete a well-rounded collection. Currently, the museum is undergoing renovations to expand its leading-edge galleries, with a grand reopening expected in the fall of 2022.
The Greenwich Library is a dazzling 100,000-square-foot complex that has been recently renovated to accommodate its 1.2 million materials. This library has one of the highest circulation rates in the state and is a favorite local gathering spot.
The Greenwich Symphony Orchestra was created in 1958, and although its name has changed from the Greenwich Philharmonia, its passion for music remains steadfast. This group belongs to the American Symphony Orchestra League and performs several concerts throughout the season with outstanding soloists.
Craving a Little More Nature? Try Backcountry

Credit: Greenwich Audobon Center
Greenwich's Backcountry neighborhood provides pastoral privacy that is unmatched elsewhere in town. This neighborhood boasts the largest plots of land you'll find in Greenwich — 4-acre zoning is required by the city, providing each sweeping estate with plentiful privacy and green space.
This area is largely devoted to the natural environment and is home to the first environmental educational center founded by the National Audubon Society. The Greenwich Audubon Center stretches 686 acres and touts 20 miles of hiking trails to explore. Equestrians will love the bountiful countryside and the ample opportunities to enjoy the outdoors on horseback. To catch the latest in Polo, the Greenwich Polo Club has public matches every Sunday. This world-class venue has been a staple since 1981 and is home to the White Birch polo team. Greenwich's Backcountry is home to a lot of indoor beauty that can be found at The Brant Foundation Art Study Center, with two long-term exhibitions each year. The Backcountry has a rustic yet sophisticated ambiance, like the comfort of well-worn leather.
For the Water Lover, Think Riverside
If you crave the sound of waves against a shore, consider Riverside. This cozy Greenwich enclave is named accordingly for its waterfront location. This area has long been beloved by sailors for its easy access to the water, and when the Riverside Yacht Club opened in 1888, it attracted New York City bigwigs intent on summering in peaceful Greenwich. Abundant waterfront properties make it easy to find a home with panoramic views. Riverside also boasts a close-knit community with a wealth of local amenities, including an elementary school that dates back to 1933 and two impeccable churches, St. Paul's Episcopal Church and St. Catherine's Catholic Church.
Riverside is considered by its residents as the sister community to Old Greenwich, and for good reason. You can easily walk to Tod's Point or the main street of Old Greenwich from Riverside, for starters. Typically, properties have slightly more land in Riverside than Old Greenwich, so if you like a neighborly feel but want a bit more elbow room, Riverside could be for you. Riverside has its own train station, which is conveniently close to Ada's, a breakfast and lunch take-out spot with, dare we say, practically a cult following.
For the Creative Spirit, Try Cos Cob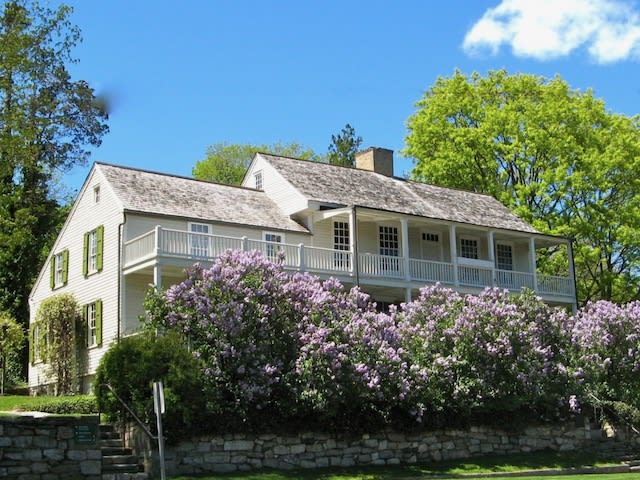 Credit: Greenwich Historical Society
Cos Cob is one of the most unique areas in Greenwich. With a distinct small-town feel, including its own zip code, Cos Cob has a vibrant personality and local charm. For centuries, Cos Cob has been favored by writers and artists, including Willa Cather, William Merritt Chase, and Eugene O'Neill. One of the historical fixtures of the area is the Bush-Holley House, home of the Greenwich Historical Society. This beautiful colonial saltbox showcases two distinct time periods, New Nation (1790-1825) and the Cos Cob Art Colony (1890-1920). Head over to the Cos Cob Library for more cultural and community events, including concert and lecture series and an art gallery space.

If you're looking for some outdoor activities, try the RowAmerica club for new and seasoned athletes alike, or take a walk along the moderate trails with gorgeous views of Mianus River Park. The Cos Cob marina will accommodate your vessel up to 28' in length and offers dry winter storage as well. This close-knit community is beloved for its lush woodland landscape, brilliant blooms, and serene privacy.
SHARE THIS STORY