Are His and Her Baths That Important? And Other Master Bath Questions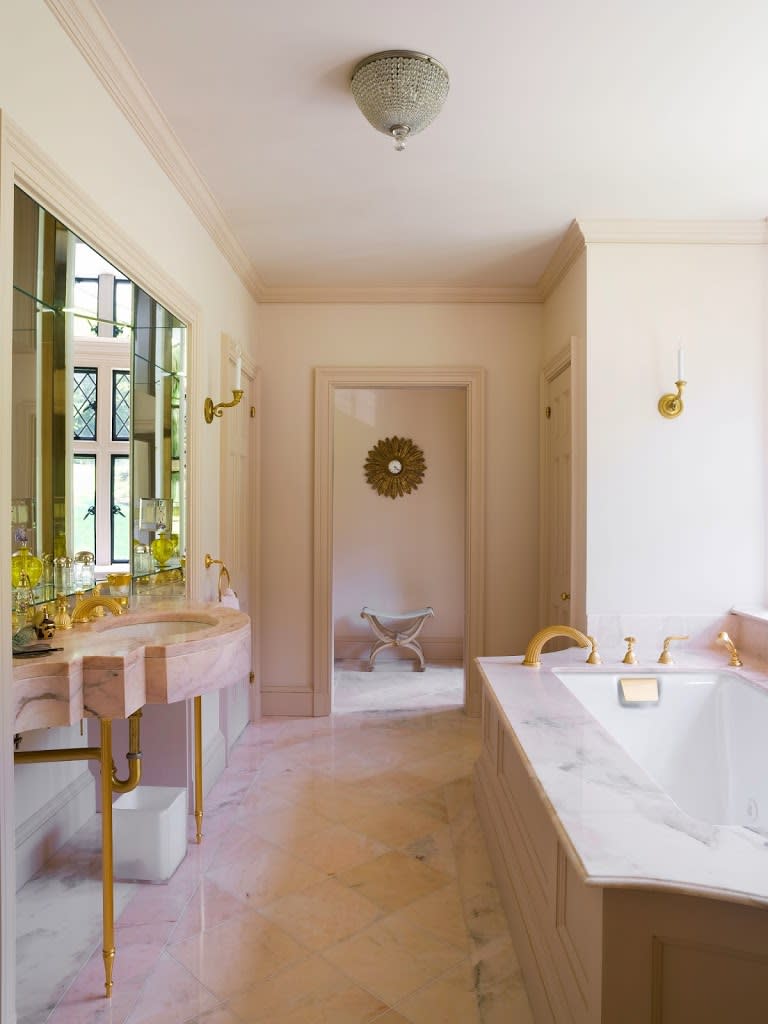 A Lady's Master Bath showcasing Sherle Wagner fittings and faucets Interior Design: Ellsworth Ford
A recent survey by the National Association of Home Builders found that 6% of buyers consider His-and-Her baths essential, and 18% insist on a private toilet compartment. In Greenwich, the His and Hers bathrooms are a feature that are 95% of the time met with great enthusiasm by prospective buyers.
According to the NAHB study, men's focus is showers, while women want soaking tubs, often with a whirlpool or air bubbling feature. Some couples are requesting enormous shower areas with two shower heads and multiple body sprays. Whether it's a shower for two or one, steam is a luxury that is not to be beat. Seats in showers are desirable, for women I suspect it makes for a convenient perch for leg shaving while men seem to be all to happy to use it for a moment (or two or three) rest before the day begins. The other upgrade of frequent mention in the study is a vanity or makeup area for women.
In the 22 years of renovating luxury homes and heading an interior design firm, I've seen master baths come close to becoming "a destination place" in the home– or at least a place of retreat and relaxation. In our decorating practice at Ellsworth Ford, master bathrooms receive much attention. Options we bring up for consideration include radiant heat flooring, music systems and small televisions that connect to the house's overall system, stylish faucets and fixtures, and a wall mounted magnifying mirror for the woman of the house. Most often, marble is my material of choice for master baths and plumbing fittings include Sherle Wagner, P.E. Guerin, Waterworks, and Lefroy Brooks.
In my real estate practice, I see master bathrooms and bedrooms as being one of the most considered spaces in high end homes, equal to or just behind kitchens and family rooms.
Thinking of renovating or building a new master bath or baths?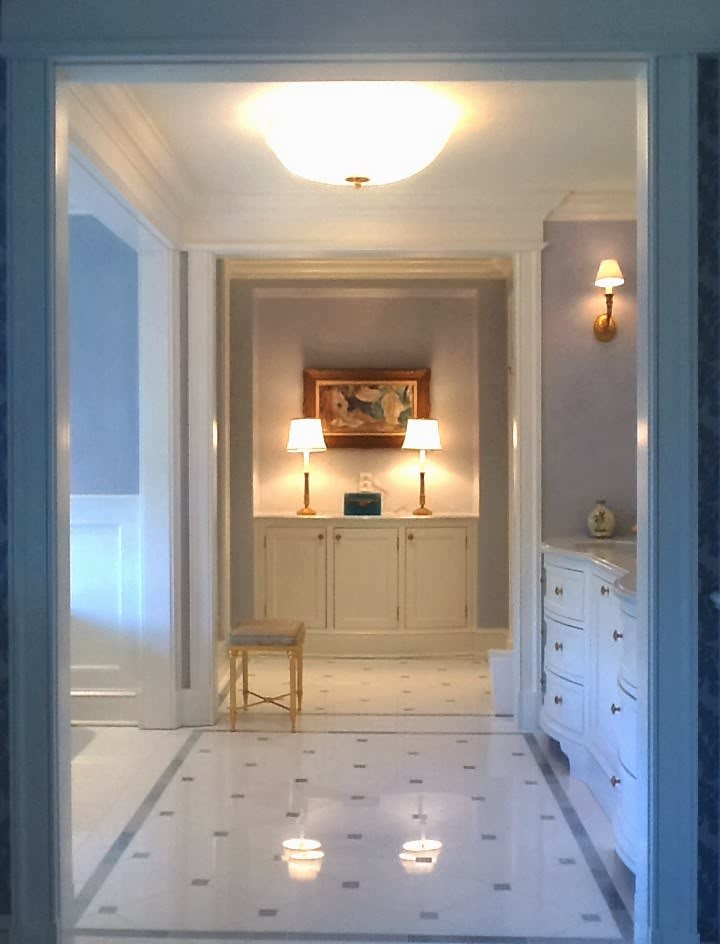 A new master bath in a 1980s Georgian. Interior Design: Ellsworth Ford
1. The bathroom should be sympathetic to the architecture of your house: No problem with incorporating desired bells and whistles but don't create a big style disconnect. For example, if you have a traditional home, the cabinetry doesn't have to be raised or recessed panels, but screaming contemporary is going to fall funny.
2. Think through your priorities but also think resell: A generous sized shower stall, ample storage, double sinks (if you share the master) and a separate toilet compartment should be top of mind.
3. Strength of shower spray: The debate is often between rain head or conventional shower head. What's right for you depends upon your water flow and water pressure, amongst other factors. Show your plumber the type of head you are considering and ask how it will perform in your particular home. That said, every shower head performs differently, with the general rule of thumb that the more you spend, the better the head. Price does, most often, have a relationship with performance.
4. Air bath vs. whirlpool/jacuzzi? Is one more sanitary than the other? The biggest difference is actually in the kind of massage the tub will deliver.

To learn more about the differences:
Fifteen or twenty years ago, the focus on room upgrades was the kitchen. Today, it seems that the master bath is going through that same sort of rethinking. Bathrooms used to be thought of as purely functional rooms; today, they are seen as another "living space" of sorts.
​​​​​​​
SHARE THIS STORY