This week, I am listing an 11,000+ sq. ft. stone and shingle home that was built in 2005. It is a sprawling home with family spaces on four levels, including a 30′ long game room, dedicated home theatre and more. When I met with the family seven days ago to discuss getting it to the market, I was surprised. Though the house "reads" fresh and "today" on the outside, the interior decorating does not. It is very, very traditional, with a color palette established right inside the front door with a deep burgundy and gold stair runner, yellow living room and wedgewood blue dining room.

In short, for today's market, I felt a big disconnect between the exterior and interiors of the home and it started right in the entry, which got me thinking about entries and how important they are in what tone is established when selling a house. With that and having my other career hat on from my design firm, Ellsworth Ford Associates, let's talk about the do's and don'ts of entry halls, foyers and reception areas… which, of course, is the first thing that hits you when you open the front door.

Walking Through A Front Door Should Make You Want to Kick Off Your Shoes and Stay
Look at your entry with a critical eye and ask these questions:

1. Does my entry give an inviting, warm welcome. Sure, that welcome is in part established by the person greeting you, but it's also set by the tone of the interiors. Take a look at the next two photos — which one do you think would make a buyer feel more welcome? Don't get hung up examining pieces and style, just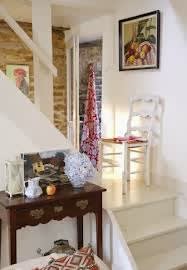 What I like about this first vignette is the white palette, walls and floors. My concern is regarding the amount of "stuff"– would clients be able to focus on the architecture and the spaces or would they get distracted in taking in all the pieces?

Personally, I might take the white chair and put it where the table is and call it a day. Take everything else away except perhaps the wall art so that the space feels larger. In this photo, I feel like I would bang my knee on the legs of the chair every time I went up the stairs.
In this next photo, there is a lot to recommend the space.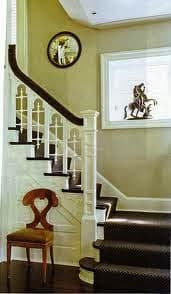 The wall color is warm and neutral, sets a warm tone, and is modern. The chair and mirror add personality but aren't overwhelming. Even if you don't like the chair's Biedermeier style (it's tough to incorporate and not for everyone), it works here and it's a great quality antique.

2. Pay attention to the largest surfaces– walls,ceilings and floor surfaces. These are big spaces and either opportunities to make a statement or immediately lose a potential customer. This entry below is dramatic for sure and from a decorating stance has a good composition. However, it definitely is setting a specific tone and if the buyer doesn't line up with that direction, you may be lose the buyer at the first step. While most buyers say, "I can see through the…. (fill in the blank: decorating, mess, clutter, style, etc)", having to do so makes them have to work that much harder and puts them at a disadvantage against the next house that doesn't share that challenge.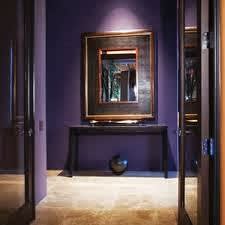 3. Make sure what the entry looks onto is also inviting. If the entry of the home looks onto another room, look at that next room with a critical eye. In the photo below, the foyer is very simple if you really study it. Black and white checkerboard marble floor, glass globe hanging fixture, white walls. But the pretty apple green wallpapered dining room wall is eye-catching without being overwhelming.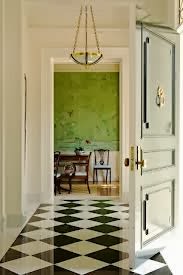 So.. just a few thoughts for you to keep in mind if you are thinking about putting your home on the market. And below, here is the property in Greenwich, CT that will be coming to the market on Tuesday. If you would like to see it, .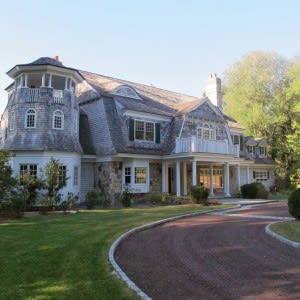 SHARE THIS STORY