It doesn't matter if you've lived in Old Greenwich your whole life or just moved here last year — there are a few things everyone loves about this charming town.


There are many reasons people love living in
Old Greenwich
, including the lovely parks, excellent schools, charming downtown area, and convenient location. There are plenty of activities and events to enjoy in this vibrant community, making it the perfect place to call home!
Excellent park system and recreational opportunities
Greenwich's
Parks and Recreation Department
is top-notch, and residents love taking advantage of all the great programs they offer. There's something for everyone, from yoga to Zumba, and residents enjoy getting fit and having fun at the same time.
Greenwich Point Park is a
beautiful spot
on the waterfront in Old Greenwich that offers stunning views of Long Island Sound. This park is a popular spot for hiking, biking, fishing, and relaxing on the beach. It's also an excellent place to take scenic walks or simply enjoy the fresh air. The park is well-maintained and has plenty of amenities, making it a popular destination for locals and visitors alike.
Veterans Park is dedicated to the men and women who have served in the United States military. It features a playground, basketball courts, and a bandstand.
Cos Cob Park
is named after the town of Cos Cob, which is located just a few miles north of Old Greenwich. It includes a playground, a basketball court, and a picnic area.
Binney Park
is named after the Binney family, who were some of the first settlers in Old Greenwich. It features a playground, a baseball field, and a basketball court.
Tod's Point
at Greenwich Point Park is situated along the harbor in Old Greenwich and offers stunning views of the Long Island Sound. It's an excellent place for a walk, a picnic, or just relaxing while taking in the area's natural beauty.

Old Greenwich Social Club
If you're looking for a fun night out, the
Old Greenwich Social Club
is the place to be! This popular spot offers a variety of activities, from dancing and karaoke to trivia nights and wine tastings. There's something for everyone, and it's the perfect place to meet new people. The bartenders are always happy to mix a custom drink just for you.
From Greenwich Point Park to Binney Park, there are plenty of beautiful
green spaces
to enjoy in Old Greenwich. Whether you want to relax on the beach, go for a walk or bike ride, or play outdoor sports, there's a park for everyone in this town.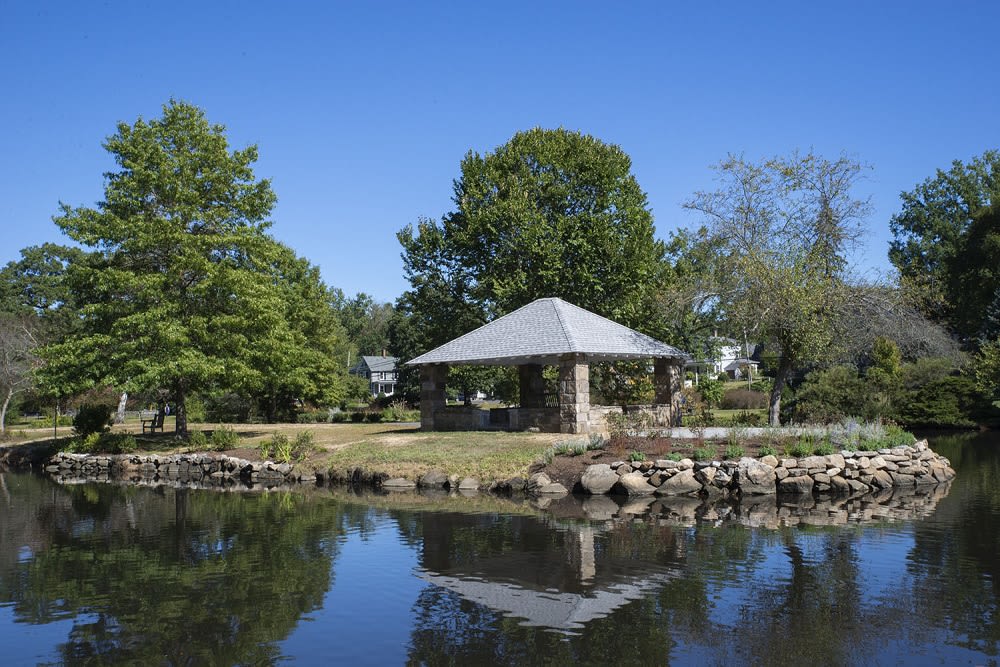 Photo courtesy of Living Greenwich
The schools
Old Greenwich is home to some of the best
schools
in the state, and it's one of the main reasons people love living here. Parents can rest assured that their children are getting an excellent education with top-rated programs for all age groups. The schools offer something for every student, from pre-kindergarten to high school. There are also plenty of extracurricular activities available for students to get involved in the community.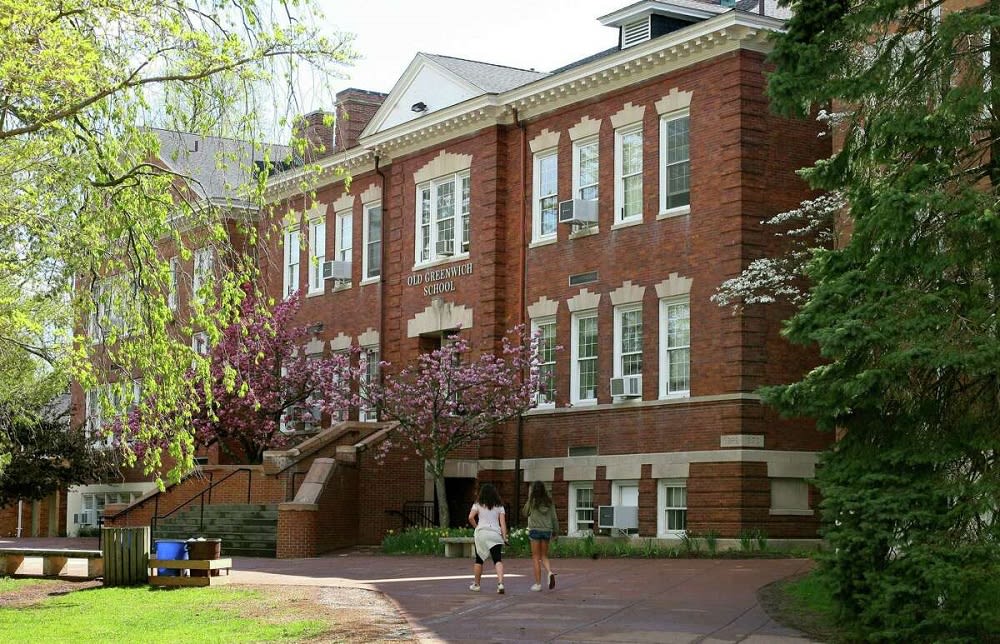 Photo courtesy of Greenwich Time

Greenwich High School
This prestigious
institution
has been educating students for over 100 years. It is known for its excellent academics, diverse student body, and strong community spirit. Greenwich High School is an integral part of the Old Greenwich community, and its graduates are highly sought-after by colleges and universities around the world.
The charm

From the lovely Colonial homes to the charming downtown area, Old Greenwich is one of the most picturesque towns in Connecticut. There's something special about living in a place that feels like a true community, and Old Greenwich has that in spades.


The architecture of Old Greenwich is one of its most distinguishing features. The buildings in this historic district are crafted from brick and stone, and many of them date back to the 1800s. The architecture throughout the neighborhood is beautiful, but it also has much history and character. People love living in Old Greenwich because they can feel the sense of community and history here.
The location

Situated right on the water, Old Greenwich is ideally located for commuters. It's just a short drive to Stamford, Norwalk, and other major cities in the area, and the train station is within walking distance, making it easy to get wherever you need to go.


Greenwich is located in the heart of Connecticut's Gold Coast, the most affluent and exclusive area in the state. This prime location offers residents plenty of opportunities for luxury living, with easy access to all that metropolitan life offers. Everything is just a short drive away from fine dining and shopping to cultural attractions and sporting events.
The restaurants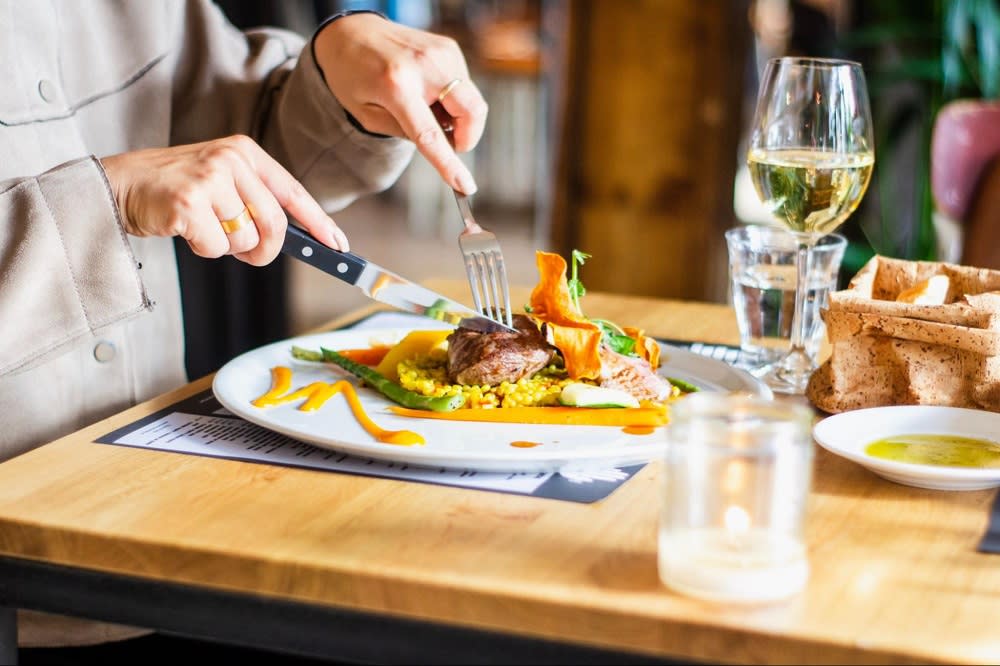 From casual diners to upscale eateries, Old Greenwich has something for everyone when it comes to restaurants. You can enjoy a delicious meal without traveling very far, and there's always a new place to try.

Le Fat Poodle
This charming
French restaurant
in Old Greenwich has been a community favorite for many years. The restaurant is famous for its delicious food and cozy atmosphere, and it has become a staple of the local dining scene. In addition to its fantastic food, Le Fat Poodle is also known for its excellent service and friendly staff. Whether you're looking for a romantic dinner date or an evening out with friends, Le Fat Poodle is the perfect spot!
Other Greenwich staples include
Sweet Pea's
, an artisanal bakery offering fresh roasted coffee, breakfasts and salads. If you are in the mood for Italian, the family owned
Applausi
is an absolute must. This family owned restaurant opened in Greenwich in 1994 and is the perfect place to host your celebrations. For when you just need some comfort food, the home of the "High School Special,"
Chicken Joe's
is the place to go for breakfast, lunch or dinner.
The shopping experience

Old Greenwich has all the shopping you want, from boutique stores to major chains. You can find everything from clothes and accessories to home goods and electronics, and there's something for everyone.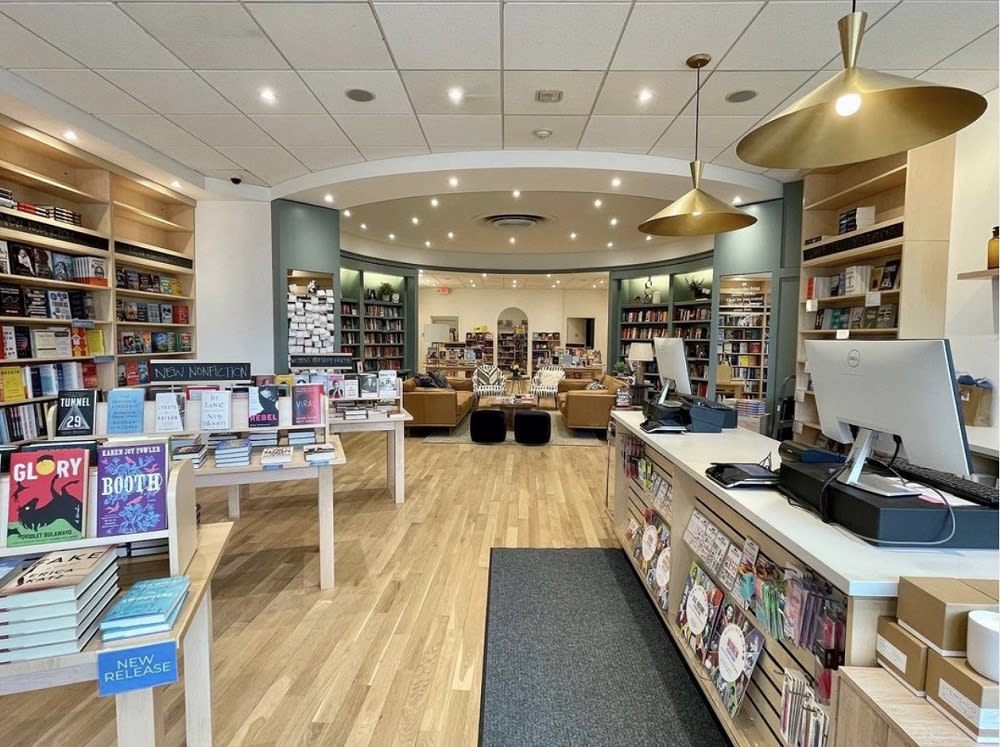 Photo courtesy of Athena Books

Back 40 mercantile
A much-loved fixture in the charming downtown area of Old Greenwich, this unique
boutique
offers a beautiful selection of stylish clothing and home accessories. The city meets county team is passionate about family, sustainable farming, and fine fabrics, which is noticeable when you first walk in this charming boutique.

Athena Books

A new addition to the neighborhood, Athena Books carries a wide selection of adult and children's books. This open but cozy shop offers gift wrapping and will be hosting a variety of events for all to enjoy.
The activities
There's always something happening in
Old Greenwich
, whether it's a street fair, a concert in the park, or one of the many seasonal activities. There's never a dull moment in this town with so much to do!
The ambiance of Old Greenwich is one of the main reasons people love living here. The charming downtown area is full of boutiques, restaurants, and cafes, and there's always something happening in the parks. From community-centered events and family-friendly activities, Old Greenwich bursts with opportunity. The schools are excellent, and it's a great place to raise a family. The convenient location is also a major bonus — it's just a short train ride away from Manhattan, and plenty of transportation options are available.


Old Greenwich is a town with a rich history — from the historic homes to the annual Heritage Day celebration, there's always something to learn about this fantastic community. Old Greenwich is a close-knit town where everyone knows their neighbors — this sense of community makes it unique, and residents are proud to call Old Greenwich home.
Are you considering a move to Greenwich?

The charming downtown area of Old Greenwich is a major attraction for residents and visitors alike. There are plenty of restaurants, shops, and services to enjoy here, and the vibrant atmosphere makes it a great place to spend an afternoon or evening. The historic buildings and sidewalks add to the charm of this wonderful district, and there is always something new to explore.


Old Greenwich is a great place to live for many reasons, but one of the biggest is the sense of community. There are always plenty of activities and events, and the neighbors are friendly and welcoming. Whether you're looking for a place to raise a family or retire, Old Greenwich is definitely worth considering!


If you're interested in investing in Greenwich real estate, look no further than the experienced, knowledgeable agents on the
Robin Kencel Team
. Contact Robin today to find your dream home in Connecticut!
SHARE THIS STORY