Record Exec Tommy Mottola Sells Custom Mansion After Two Years -- And At A 25% Discount
The tale of Tommy Mottola's Greenwich house sale began two years ago when he and his wife Thalia . They purchased the home in 2010 for $2.85 million and proceeded to turn the 5.7-acre overgrown vacant lot to an estate with a 12,000-square-foot, nine-bedroom main house. The property sold last week for $14.9 million. The sale might be yet another harbinger of how Greenwich's real estate market is returning to solid ground after a few years of lackluster performance, as the long-awaited .
It took several years to design and build the Georgian Colonial, which includes two separate two-story dressing rooms, a beauty salon, gym, play room and entertaining space designed to look like a vintage hunting lodge with beamed, vaulted ceilings and a fireplace surround made of ashlar fieldstone. Fitting with Mottola's prior gig as chairman/CEO of Sony Music Entertainment, where he was known for building the careers of stars such as Gloria Estefan and Céline Dion, there is also a recording studio decorated with Thalia's awards for her career as a pop singer. An in-house elevator can access all four floors.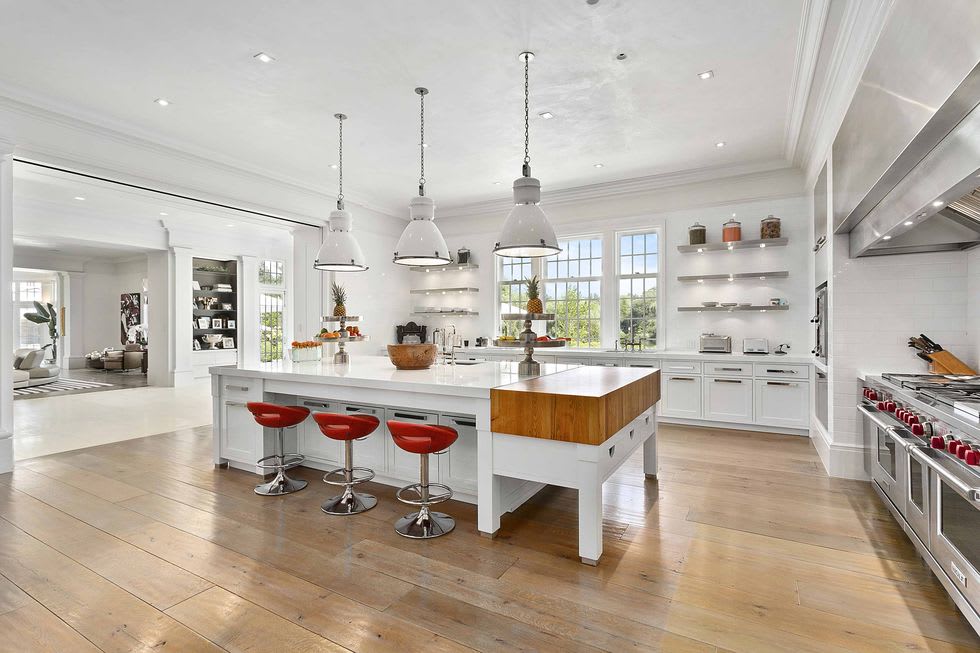 The farmhouse style kitchen with three ovens, floating shelves and a butcher block island also has three 1930s Czech lights from Ann-Morris, to Architectural Digest.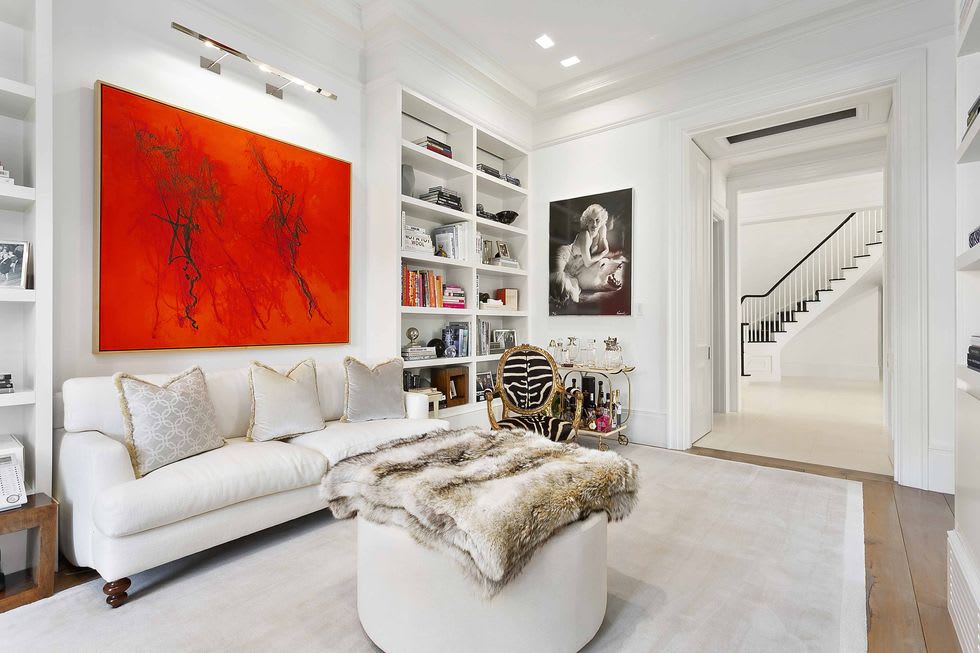 The couple wanted to display their extensive art collection, which includes works by Keith Haring, Andy Warhol, Richmond Burton, Robert Indiana and Marc Quinn. Above is one of the living rooms where they can display art without it being exposed to direct sunlight.
The media room has a contemporary feel in the main part with a slightly more rustic, fireplace-enhanced nook at the far end of the room.
The bedroom, with a Richmond Burton painting, looks out onto the over five acres of land with lake and pool.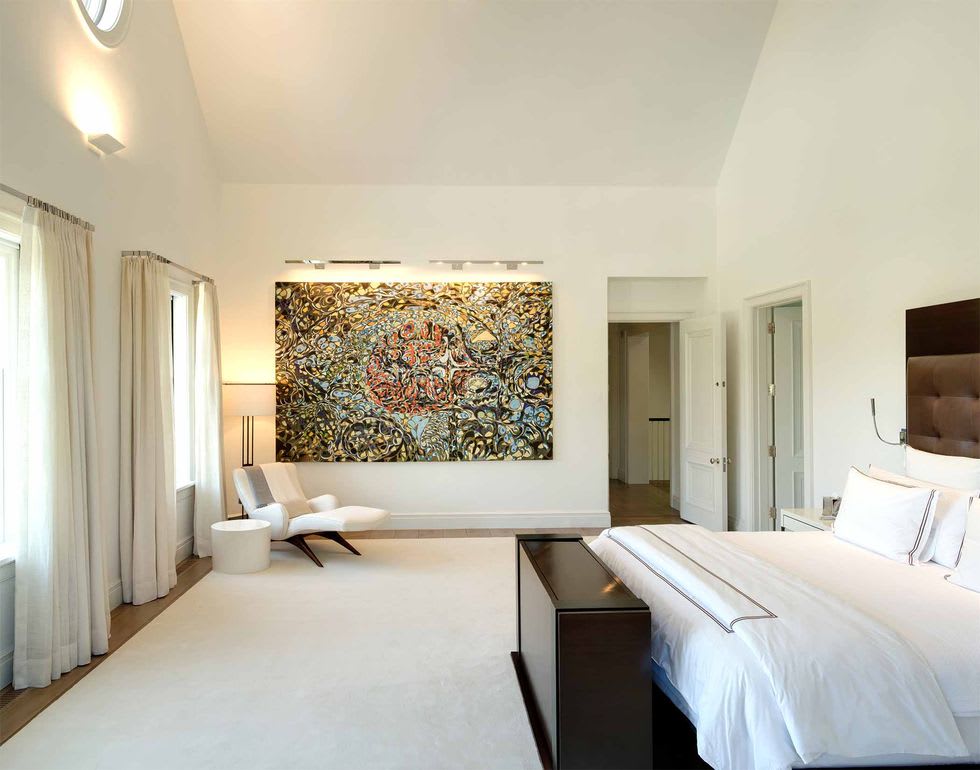 Here is one of two dressing room/bathrooms, each with two levels. You can see a quick glimpse of the upper level closet if you peek through the top of the staircase.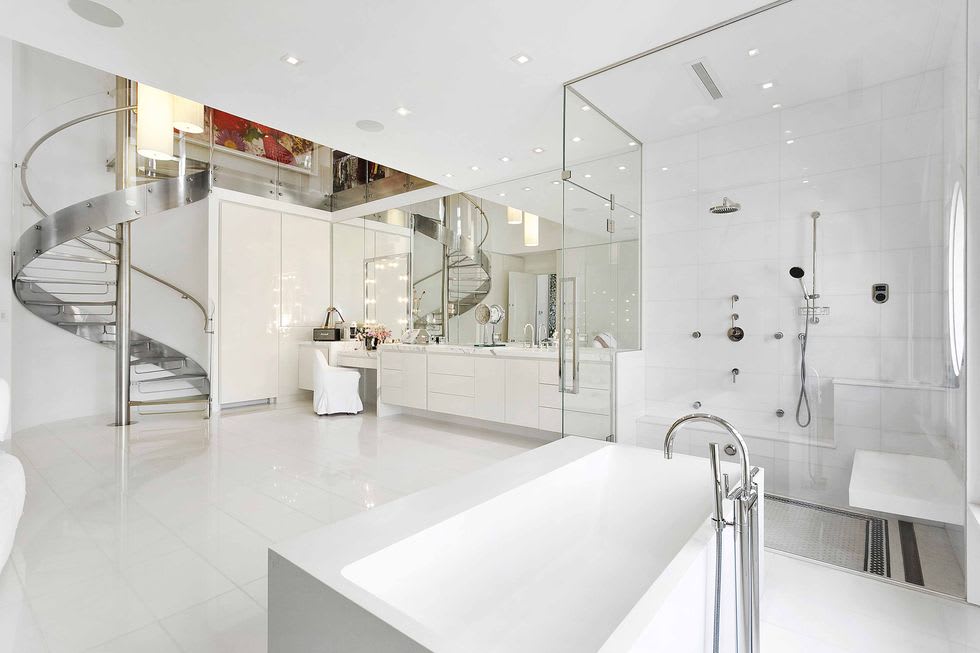 And here's the overhead shot of the expansive property.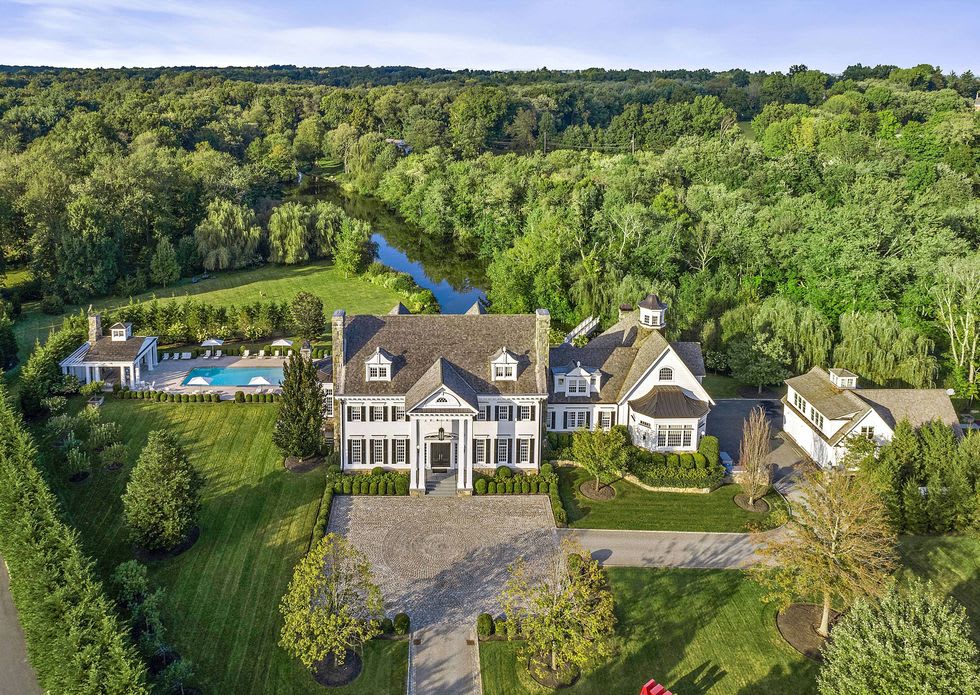 Listing agents declined to comment.
SHARE THIS STORY