There are a number of things that are practical mysteries in my life. I tackled two of them recently. Creating a floral centerpiece is one of them.


Before you click off this blog, let me just say that it's intimating. We have several very fine florists in Greenwich, CT, including two of my long time favorites, Greenwich Orchids and McArdles. When the door bell rings and one of their trucks is seen outside it is a definite pulse increaser. You should know something luxurious, beautiful and opulent is about to be received.


At any rate, this past Saturday was a snow day in Greenwich. I had planned to host an intimate dinner party with good friends who used to live in Belle Haven but now live in Dallas, and friends from backcountry Greenwich. Whether they could even make it on the roads was a question in my mind.


I had managed to slip and slide on a tour of Greenwich in the early afternoon, showing off the many amenities and gorgeous countryside for a family who will be relocating here from London, England. Dropping the advance team—the professional/husband/father who is the reason for the relocation, off at the Greenwich train station, I wanted to limit the driving needed to get the dinner party together.


The theme was staring at me from my foggy car windows. A winter wonderland! Why not? I had beautiful porcelain dinner plates with woodland animals on them, a collection of Asprey horn and sterling flatware, my St. Louis Apollo crystal, placemats that are blankets of "leaves" and gold trimmed linen napkins from Hoglands, another favored retailer in Greenwich.


What to do for a centerpiece? I popped into McArdles. Denise, the sales assistant/floral designer could not have been more helpful. I began slowly, getting a sense for what flowers and greenery would suit both the them and my tablesetting. Denise and I settled on flowering Kale, spider mums and curly twig branches. My design colleague, Carlene Safdie, reminded me that keeping to one or two flower types makes for a dramatic look.
​​​​​​​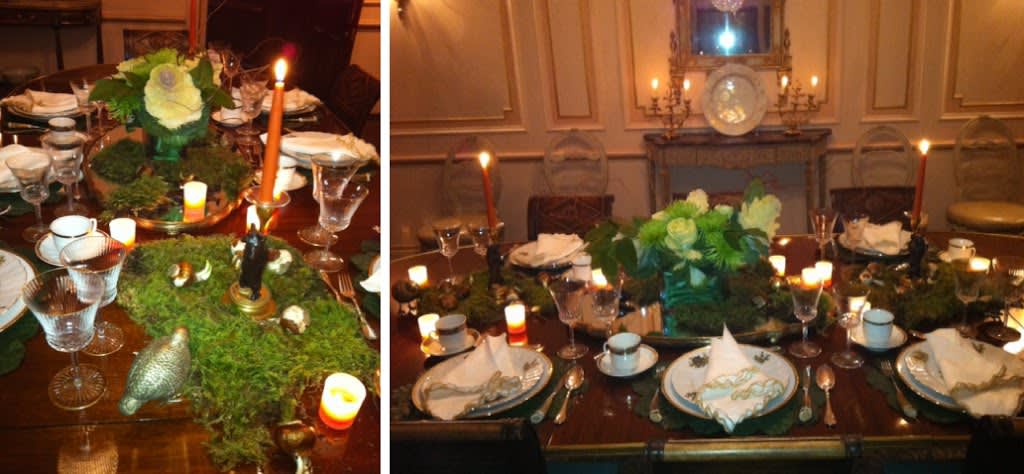 Keeping one or two flower types makes for a dramatic look
Of course the key to a centerpiece is how the flowers are arranged and Denise took the fear of that right out. She cut a piece of oasis to fit the glass rectangular container and soaked it by gently placing it in a tub of water and letting the water seap up through it. Keeps the flowers fed and in place. She offered some greens that I could use for fillers.
​​​​​​​

From there, it was anchors away. My thought was to approach the arrangement like house construction, from the bottom up. I stuck the Kale in at the two ends, anchoring the piece and then used the remaining flowers to create an outline of the overall shape. From there it was rounding out with spider mums and using the greens to hide any existing oasis. It was so much fun for just $57!
SHARE THIS STORY