If you follow Greenwich real estate, than you are well aware that the market has been regaining its footing for some time and in fact, is up +16% YTD in 2013 vs. YAGO sales. This market strengthening is in no way thanks to the high end, +$10 million and over, segment. And as for the super high end, things are even more sobering. In fact, just one house has sold over $20 million since 9/16/10. That statistic, however, is about to change.

Earlier this week, a nearly 19,000 sq ft. classic brick Georgian home with pool house and garage apartment set on 8 acres was listed for $26,500,000– and went to contract just four days later. The property is located in the heart of mid country Greenwich in what is known as the Golden Triangle, which says everything it needs to about it's strong location.

So what was so special about this property that persuaded the buyers to forgo their commitment to purchase a 1930s stone and clapboard home also set on 8 acres, located in the same area of Greenwich and was half the size and half the listing price? And what appealed to the buyers about the brick Georgian vs. the other four properties listed in the same price point as the one that they settled on?

A word, first, on what they chose. The gracious 25 room brick residence was designed by Dinyer Wadia and built by his firm, Wadia Associates of New Canaan. Wadia is considered to be one of a handful of top tier design/build firms in the area. Set high on a hill, the stately main house overlooks beautiful gardens, a pool and tennis court. It was decorated by a well known Greenwich decorator and is in excellent condition.

Knowing firsthand, the exorbitant time, resources and attention renovating a vintage home requires, it is not surprising to see the appeal of this property vs. options that would require a multi-year renovation project.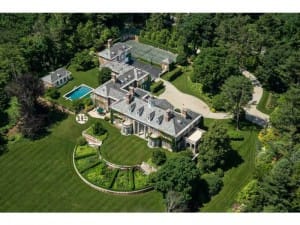 Quick to Contract: Classic architecture, beautiful property and wonderfully maintained

As for the other properties that were on the market in this general price range all are smaller in square footage and most have less land:
Two are on the water: One is in Belle Haven, and sits on 2 acres at 14,967 sq ft. It was built in 1893 and renovated by another well regarded construction firm, Hobbs Construction. The second is on Byram Shore Rd., and has 440′ shoreline. At 12,788 and sitting on 3.28 acres, it is a 1916 house that was renovated in 2012,
Three are mid-country: One is on Taconic Rd. and was built in 2012 and is a working horse farm; one is on Clapboard Ridge Rd., located in the desirable association of Khakum Woods and is a 1924 home that was renovated in 2004 and sits on 5 acres, and one is on Mooreland, off of Round Hill Rd., and was built in 2005.
And how does the house that just went to contract so quickly compare to the only sold property above $20 million since September, 2010? That house was on the prestigious Field Point Circle in Belle Haven, and sat on 2.2 acres with direct waterfront. The stone home was designed by architect Thomas Kligerman and built in 2003, and featured indoor and outdoor pools amongst many special features and amenities. The Field Point Circle property was on the market for 627 days before selling for $25 million in February, 2011. Unfortunately, it was for sale in the midst of a very bleak period in real estate.
So what did we learn about this week's high end success story? Timing is everything. For sure. Classic architecture, strong floor plan, A+ location, top level construction, well maintained home, and beautiful grounds gave one family exactly what they wanted at precisely the time when they wanted it. Once in a while, it's just that simple in real estate.
SHARE THIS STORY