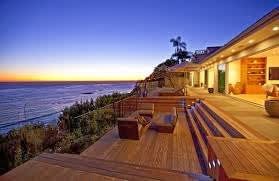 For many Greenwich homeowners, it sounds more like a pipe dream than a carefully thought-out investment: getting your own vacation home—a refuge where you can put your feet up, relax, and tune out the stress of daily life.
True, if you look only at the expense of a second home, it sounds like a pretty costly indulgence. But in many cases, stepping back to take in the bigger financial picture, it could wind up being one of the shrewdest financial decisions you can make!​​​​​​​
Consider:

1. Vacation savings. Using your vacation home more than once or twice a year can easily result in annual six-figure savings. The resort hotels and eateries' loss is your gain when you and relatives and friends are able to enjoy your vacation getaway.
2. Extra income. One of the motivating factors for many vacation home owners is the possibility to create a new source of some extra income. When you consider renting out your vacation home when you're not using it, your occasional renters can cover some of the property's mortgage and operating expenses. Also, renting your vacation house increases the proportion of time that it's in use, reducing the kinds of maintenance issues that can develop when minor problems go undetected—especially during winter months.
3. Tax advantages. A vacation home can become significantly more attractive when you take advantage of the considerable tax advantages. Consult your licensed financial advisor to confirm the details: in general, if you rent your second home for 14 days or less, it qualifies for the mortgage interest tax write-offs you get for your primary residence. And if you rent it out for more than 14 days in a year, a proportional amount of upkeep expenses can be deductible, as well.
4. Retirement prep. If your vacation home winds up becoming your home base for retirement, having acquired it early on as a vacation home now can be a terrifically wise move in the long run. By retirement, you will have built the kind of equity that reduces your mortgage debt, freeing up your retirement income stream for more pleasurable expenditures, like gambling, sumo wrestling, or even taking one of Richard Branson's Virgin Galactic rocket rides to an asteroid.
Two final creative vacation "home" ideas: I have seen several Greenwich families who have swapped homes, allowing a family to stay in their home and going to that family's home during the same time period. I have also seen families who go on vacation for an extended time and rent their Greenwich home to others, finding renters through word of mouth often.
Interested in offering your home for summer rent? If you'd like a valuation on what your property might rent for please
SHARE THIS STORY