Westchester & Fairfield Cheat Sheet: White Plains developer heads to prison, Marc Jacobs buys in Rye, Tommy Mottola sells in Greenwich… & more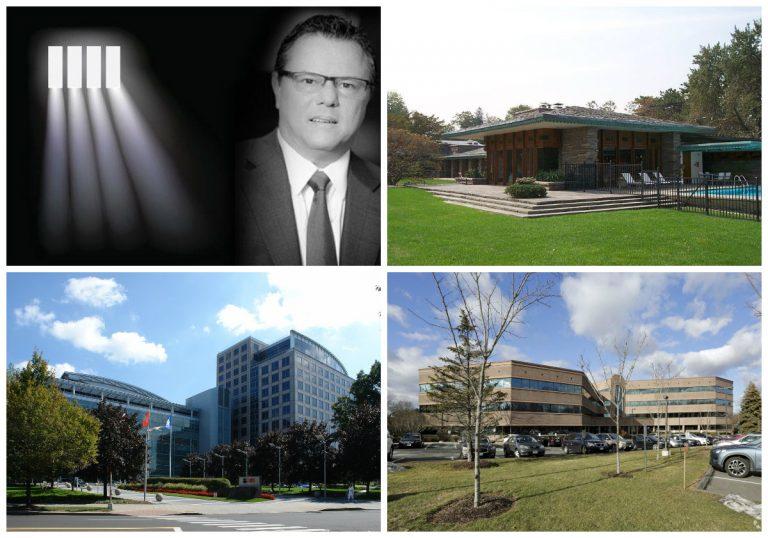 Clockwise from top left: Developer Michael D'Alessio is sentenced to six years in prison for running a $58M Ponzi scheme, fashion designer Marc Jacobs shells out $9.175M for a Frank Lloyd Wright-designed mansion in Rye, a Stratford-based neurology group signs 10-year lease at a nearby office park and WWE's Stamford lease and UnitedHealth Group's White Plains lease are top Q1 tenants.
Developer gets 6 years in prison for $58M Ponzi scheme
A White Plains developer who pleaded guilty to defrauding investors at projects in Westchester, Manhattan and the Hamptons has been sentenced to six years in prison. Federal prosecutors accused Michael D'Alessio, the former president and CEO of Michael Paul Enterprises, of that he used to pay off money he owed — including gambling debts — and cash out early investors. During a court appearance last week, D'Alessio broke down in tears, saying he was "a good man who has struggled with addiction and made terrible mistakes." D'Alessio, who pleaded guilty to fraud charges in November, has sold over the past several months. "I feel terrible for all the damage and heartache I have caused to my investors, my friends and to what once was my good name," he said in court. D'Alessio will be on probation for three years after his prison sentence and will also have to do community service and enroll in an outpatient program for drug and alcohol abuse.
Marc Jacobs pays more than $9M for Rye mansion
Famous fashion designer Marc Jacobs is the new owner of a Frank Lloyd Wright-designed waterfront home in Rye, the Wall Street Journal reported. Jacobs ponied up $9.175 million for the approximately 6,000-square-foot , which Wright built for Austrian-born automobile importer in the 1950s. The home was once owned by philanthropist Emily Fisher Landau and was most recently owned by investor Thomas Tisch and his wife. Compass' Joshua Wesoky represented the sellers of the nearly 2-acre property at 58 Island Drive, while Julia B. Fee Sotheby's International Realty agent Laura DeVita represented Jacobs, who will use the home as a "weekend retreat," according to the outlet.
Tommy Mottola unloads Greenwich estate for $15M
Longtime music industry executive Tommy Mottola took a 25 percent discount on the sale a Georgian Colonial-style home in Greenwich he owned with his wife, Mexican pop star Thalia, . The couple, represented by Compass' Robin Kencel and Brian Milton, sold their to an anonymous buyer advised by Stephen Archino of Sotheby's International Realty. (Archino currently has a owned by former RFR Holding executive Jason Brown.) Mottola, the former chairman and CEO of Sony Music, originally listed the . Despite the markdown to the final sale price, Mottola still did well in the sale, having bought the 12,000-square-foot Greenwich home for $2.85 million in 2010. As for Kencel, a founding agent of Compass' Greenwich office, she looking at the state of the luxury sales market in Central Greenwich. The analysis showed that the area had 26 active listings with price tags in the $9 million-to-$15 million range as of March 23. The area also saw 7 sales in that price range within the past year as of that date — and one under contract — with an average sales price of $9.7 million, according to Kencel.
Westchester, Fairfield luxury markets lag, reports find
Luxury residential prices in Westchester County continued to show signs of softness during the first quarter of 2019, The Real Deal reported this week, citing the latest market report from Douglas Elliman. While sales climbed 6.5 percent, the median sales price fell 8.7 percent year-over-year, to $1.78 million. Listing inventory grew 4.8 percent as the entry threshold for the luxury market in Westchester dipped 7.3 percent, to $1.35 million, per Elliman, which did see in Westchester. But other residential brokerages had a similar dismal luxury outlook for New York City's northern suburbs. Sales in the region were down 33 percent over the past six months year-over-year, with the "steepest drop" coming in Westchester, , citing a first quarter luxury market report from Houlihan Lawrence. The latter found that sales of properties with price tags of $2 million or more were down by 38 percent. Fairfield County, meanwhile, saw Greenwich property sales of $3 million or more, while sales valued at $2 million or more in Darien and New Canaan dropped by an average of 28 percent, according to Houlihan Lawrence. Anthony Cutugno, a senior vice president and director of private brokerage at Houlihan Lawrence, attributed the declines to "fewer buyers leaving the city to head north because their apartments remain unsold."
Stamford, White Plains leases highlight Q1 office market
Vince McMahon's World Wrestling Entertainment recently — the largest lease deal in Fairfield County's office market during the first quarter of this year, according to GlobeSt, citing a market report from Cushman & Wakefield. The second-largest new tenant was Charter Communications, for a , and which signed on for 18,391 square feet at its during the first quarter. The first three months of 2019 were the strongest for office leasing activity in Fairfield since 2015, Another Fairfield office market report by Newmark Knight Frank found that the first quarter would have been "particularly slow" without the — McMahon's revived in Stamford — as leasing activity was up 9.4 percent year-over-year, but down 5 percent from the fourth quarter of 2018. Meanwhile, in Westchester, the largest lease signing was a 63,575-square-foot deal in White Plains by UnitedHealth Group. While leasing activity in Westchester in the first quarter increased 2.8 percent year-over-year, the county "posted a negative space absorption of 68,884 square feet," according to GlobeSt. CBRE found that in the first quarter when compared to the same period last year.
Norwalk and Stamford have highest rents in Connecticut
Stamford has the highest rents of any city in Connecticut, the Norwalk Hour reported, citing a recent report from apartment search site RENTCafé. March rents in Stamford, , were $2,344 per month on average, according to the report. Norwalk came in at second place on the list with an average rent of $2,288 per month as of March. The RENTCafé data, however, indicated that rents in the two cities "may be near their peaks," according to the Norwalk Hour. March rents in Stamford fell 0.3 percent year-over-year and 2.4 percent year-over-year in Norwalk, the outlet reported. The average rent in Stamford last month was actually higher than it was in Washington, D.C., and Queens, New York, which had March average rents of $2,135 and $2,268, respectively. It still wasn't as high as the average March rent in Los Angeles, which clocked in at $2,469, according to RENTCafé, a unit of real estate research and data firm Yardi Systems.
Edge-on-Hudson backers enlist architect for parks and paths
Irvine, California-based SunCal Management and Montville, New Jersey-based Diversified Realty Advisors, the master developers behind a , have tapped Nelson Byrd Woltz Landscape Architects (NBW) to design the parks and paths at their Edge-on-Hudson complex in Sleepy Hollow, according to a press release. The massive project, which is , is slated to include 1,177 residential units, a hotel, retail space and office space, as well as more than 16 acres of parkland. NBW "has begun research and initial design work for the waterfront promenade and green spaces adjoining Kingsland Point Park that will be key components of Edge-on-Hudson and which will link to a range of existing trails and park systems," the two developers said in a statement. Toll Brothers is already in the process of of the development. As for NBW, its principal Thomas Woltz was for his work at Hudson Yards in Manhattan.
Rockland County's Time Nyack Hotel gets a new owner
A month after for the Time Nyack Hotel, affiliates of a Scottsdale, Arizona-based real estate investment trust and Juniper Capital Partners the distressed property, LoHud reported. The 133-room hotel's former parent company, EMC Hotels and Resorts, filed for bankruptcy last year. Now Juniper and an affiliate of IMF Financial, both of which have extensive experience in the finance and hospitality sectors, of the Time Nyack. The boutique hotel and was that once stood at 400 High Avenue in Nyack, an area that LoHud noted is in the . The Time Nyack is located almost directly across the Hudson River from the Edge-on-Hudson development in Sleepy Hollow.
​​​​​​​
SHARE THIS STORY