Last Sunday at my church, Trinity Church of Greenwich, I arrived to find that the high schoolers were holding a car wash to raise money for their upcoming houseboats trip. Your car would be cleaned while you were in church. Since multi-tasking is pretty much my middle name, this was hugely appealing.
I don't know about you, but I have to admit I don't always participate in these kind of car washes. I've had a few too many experiences of driving away with more than my fair share of soapy streaks sporting my vehicle.
But, being a realtor, the most angst-filled part of my job is making sure that my car is clean at all times. Not the inside, mind you. A canvas bag can be found in the backseat most days that holds any of the materials or random items that I need for the day. My challenge is on the outside. No matter where I park– and I actually think about it– trying to avoid dust storms, trees that "shed", or crowds of birds, it's tough to keep a dark blue car sparkling for more than a couple of days.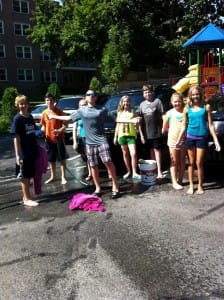 So, whenever possible, I brake for car washes.

I was not disappointed on Sunday. The high schoolers did a fantastic job and I came out of church just as this group of kids in the photo above were finishing up the wheels. Yup, they even did my wheels!

What does a car wash have to do with real estate? Simply this. Whether it's a car or a house that you have on the market, the condition of it matters. Whether it's clean countertops, organized closets, or a sparkling car, an impression is created. And as my mother always said, you don't have two chances to create a first impression.

P.S. Speaking of dirty cars, have you ever seen Scott Wade's dirty car art? He turns dirty car windows into works of art.
​​​​​​​
Search homes and rentals on the MLS
Contact Robin Kencel for help locating and acquiring a home or rental.
SHARE THIS STORY